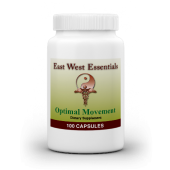 Optimal Movement
What it is:
East West Essentials' Optimal Movement is based on an ancient, all natural herbal formula that uses a special blending of herbs which aids in digestion and helps to promote and strengthen the normal elimination function of the colon.
What it does:
Optimal Movement is designed to improve the immediate problem of constipation and to help the body establish long term, gentle, natural bowel elimination.
Daily Schedule:
Take 2 capsules in the morning and 2 capsules in the afternoon or evening. You may increase to 9 capsules per day, only if necessary.
Support:
All of us at East West Essentials have a passion for wellness and want to help you reach your health goals. We are here to support you throughout your journey. Our wellness specialists have led hundreds of people through our products and programs in and outside of our clinics. Please give us a call if you have any questions.
It is formulated without:
Harmful additives, preservatives, fillers, bleaching agents or hexane.
CAUTION:
If you have any major health concerns, check with your healthcare practitioner before use. Keep out of reach of children. Do not use if pregnant.
STORAGE:
Keep tightly closed in a clean, dry place.
TAMPER EVIDENT:
Do not use if safety seal is missing or broken.
East West Essentials products are manufactured in an NSF certified GMP registered facility. GMP refers to the Good Manufacturing Practice regulations as put forth by the US Food and Drug Administration.
Optimal Movement
Optimal Movement product video
Optimal Movement
Customer Reviews
---

"A MUST HAVE FOR THOSE WITH TUMMY PROBS" (Posted by:

Kalai

on 4/10/17)
I have had tummy issues/constipation my whole life. I emailed customer service and made a phone apt with Dr. Wilson (no charge) and she went over the different reasons my issues could possibly be (which I won't bore you with). But she nailed the product for me. I was really looking for something that was safe to take everyday and not just a laxative or senna (which I used to take and over time started causing me severe issues..my doc actually made me stop thank goodness) Anyway, I didn't think it was possible for something gentle and safe to literally solve my life long problem! Seriously, I highly highly recommend the Optimal Movement. (I take 2 caps every single morning) sometimes I also take 1-2 caps in evening but only for a day or two if something in my diet drastically changed. They totally work AND the best part is there is no rush trip to bathroom or anything. It's really changed my life.

---

"Great" (Posted by:

Mayari

on 5/31/15)
Grateful to be regular again without any nasty side effects. Thanks EWE!

---

"where have you been EWE?" (Posted by:

Carol

on 7/27/13)
I have never had such bowel sucess as I have had with this optimal movement!. It is so gentle and "natural". Now that I'm on a regular schedule with my bowels, I keep it on hand for those sluggish days. I also bought some for my Mom who has had problems for years and it has worked great for her too. Thanks again

---

"Changed My Life!" (Posted by:

Rebecca

on 10/22/12)
I have had problems with being "regular" for years. I tried just about everything with no help whatsoever, until I added the Optimal Movement to my daily routine. Wow! Within days I was regular and have been ever since, going on 8 months now! I can't recommend this enough! My stomach also looks feels less bloated!