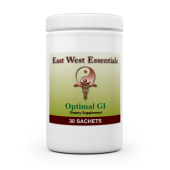 Optimal GI Intensive Heal
What it is:
East West Essentials Optimal GI Intensive Heal provides supplementation of probiotic strains of bacteria, immunoglobulins, and colostrum. &nbsp:.By combining these ingredients, the individual benefits of each component is complimented by the mechanism of each-other synergistically.
What it does:
East West Essentials' Optimal GI Intensive Heal improves good bacteria which are an essential components in healing existing fertility problems. It is an ideal solution for individuals with a variety of gut-related issues that cause inflammation, discomfort, constipation, diarrhea, gas and bloating, candida, cystic conditions and poor absorption of vitamins.
Daily Schedule:
Take 2 capsules daily. Can take up to two additional servings per day in time of environmental or physical stress.
Support:
All of us at East West Essentials have a passion for wellness and want to help you reach your goal of creating a family. We are here to support you throughout your journey. Our wellness specialists have led hundreds of people through our products and programs in and outside of our clinics. Please give us a call if you have any questions.
It is formulated without:
Pesticides, antibiotics, wheat, gluten, corn, soy, artificial colors, sweeteners, or preservatives.
CAUTION:
If you have any major health concerns, check with your healthcare practitioner before use. Keep out of reach of children.
STORAGE:
Keep tightly closed in a clean, dry place. No refrigeration necessary.
TAMPER EVIDENT:
Do not use if safety seal is missing or broken.
East West Essentials products are manufactured in an NSF certified GMP registered facility. GMP refers to the Good Manufacturing Practice regulations as put forth by the US Food and Drug Administration.
Optimal GI
Customer Reviews
---

"Received a sample" (Posted by:

Gene

on 4/7/16)
And this really fixed alot of issues I had in my digestive and gut area. I liked it alot and have continued to order it for the last six months.

---

"Love this" (Posted by:

Jem

on 7/14/15)
I live on this product. I've taken it every day for months. I used to have such nagging gut issues and that bloating was ridiculous. After a week or two of taking this I couldn't believe it had worked. Even my doctor couldn't fix my issues before. Thank you EWE!

---

"Great taste" (Posted by:

Christina

on 2/26/14)
I love using the Optimal GI. The small sachets are really easy to toss in my purse when I'm on the go and I actually like the taste! I feel great and would recommend to anyone!