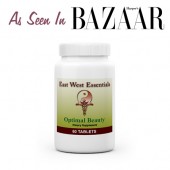 Optimal Beauty PRO
What it is:
Most products in today's market for skin, hair and nails are not easily absorbed and therefore ineffective. Optimal Beauty Pro is a natural compound of choline-stabilized orthosilicic acid "ch-OSA" that is delivered in an easily absorbed bioavailable form allowing it to quickly and efficiently activate and rejuvenate the body's cells that generate collagen, elastin and keratin. New! Now added 5000 Pharma Biotin
What it does:
Optimal Beauty Pro is known to promote thickening of the hair and lashes, reduce age related fine lines and wrinkles, and strengthen nails. In recent clinical studies, it has also been shown to increase bone density and connective tissue formation for strong bones and flexible joints.
You can only get a genuine transformation of the skin, hair and nails from the inside out and Optimal Beauty Pro is the ultimate product working from the "inside out"! At East West Essentials, we always want our customers to have the very best. So we have enhanced our Optimal Beauty Pro with the addition of Biotin, another essential supplement that improves nail thickness, strength, reduces splitting, enhances skin health and promotes beautiful, thick, healthy hair.
Daily Schedule:
Take 1 capsule two times per day
Support:
All of us at East West Essentials have a passion for wellness and want to help you reach your health goals. We are here to support you throughout your journey. Our wellness specialists have led hundreds of people through our products and programs in and outside of our clinics. Please give us a call if you have any questions.
It is formulated without:
Fish, harmful additives, preservatives, fillers, bleaching agents or hexane.
CAUTION:
If you have any major health concerns, check with your healthcare practitioner before use. Keep out of reach of children.
STORAGE:
Keep tightly closed in a clean, dry place. Do not freeze
TAMPER EVIDENT:
Do not use if safety seal is missing or broken.
East West Essentials products are manufactured in an NSF certified GMP registered facility. GMP refers to the Good Manufacturing Practice regulations as put forth by the US Food and Drug Administration.
Click here for the full Optimal Beauty PRO Catalog
Optimal Beauty PRO
Customer Reviews
---

"another excellent product!" (Posted by:

Caroline

on 9/29/16)
I am always skeptical of beauty product claims. BUT i swear this one works.! Lots of "you look so much younger!" Love to hear it - keep it up East West!

---

"Perfect!" (Posted by:

Emma

on 4/20/16)
I really love the effect this supplement has had on my eyelashes (thicker, fuller, longer) and my hair (much softer and more manageable). It's easy to take!

---

"Love!" (Posted by:

Eliza

on 3/22/16)
My hair is healthier and less damaged. My eyelashes are fuller and longer. My nails grow incredibly fast. And I no longer suffer from dry skin on my face. All of this just from Optimal Beauty. Because I'm honestly too lazy to subscribe to face washing rituals or anything else!

---

"Great!" (Posted by:

Jah

on 10/7/15)
I've been a nail biter practically my entire life. But I finally gave it up and my nails rebounded thanks to these. They are long, strong, and looking great! As a bonus, my hair is feeling thicker and healthier too!

---

"Such a help" (Posted by:

Maurine

on 8/26/15)
My hair is so much healthier and thicker now. I even got back the natural curl I had lost from damaging it with heat and products.

---

"Wow" (Posted by:

Jenna

on 8/4/15)
My hairstylist recommended I take these, she's taken them for years. Totally saved my hair! It's become super thick and full. It used to be lifeless but now it feels and looks great! Another bonus is my fingernails are much stronger and healthier as well!

---

"Love!" (Posted by:

Seo

on 6/27/15)
I love love love your products!

---

"Amazing, Must-Have!!!!" (Posted by:

Gwen

on 4/14/14)
My hair has always been fine and lifeless... no matter what style or product I try (and believe me, I tried them all!). I've been an EWE fan for years and love their products so I was SO excited when this launched. After my first month of using it my hair was changed for the better. It was like someone else's hair had magically appeared on my head - and that someone else was a hair model! My hair was fuller, healthier and long. I didn't realize the extent until someone posted a pic of me o Facebook and literally EVERY comment was about my HAIR! I rarely receive hair compliments until now. And suddenly I hear it everywhere I go! I tell everyone I know about optimal beauty. It is amazing! My nails are stronger as well and I swear my fine lines have been reduced, especially around my eyes. THANK YOU, EAST WEST!!!!! xoxoxoxox

---

"Awesome!!!" (Posted by:

Debbie C.

on 3/11/14)
My friend saw the Optimal Beauty in Harper's Bazar and mentioned it to me, I later went and ordered it because one area concern of mine has always been my thin hair. With years of dying and bleaching my hair it has become very thin and frail, once I received Optimal Beauty, this completely changed! I always felt like to change this I would need direct contact with my hair with products like hair masks and deep conditioners and I can honestly say I've tried it all and there is nothing else that has this strengthening and nourishing effect on my hair! Everyone with similar concerns should purchase!!!

---

"Loving it" (Posted by:

Catherine

on 1/24/14)
Thank you EWE for this amazing Optimal Beauty! It really works and I have gotten so many comments on my hair. I also really have noticed the results on my face are faster.... :-) Save me a lot of money on using make up and expensive cream :)

---

"Very Effective" (Posted by:

Jennifer

on 1/24/14)
Hi ladies..I just wanted to thank you again for this amazing product! It really works and I have gotten so many comments on my hair. I also really have noticed the results on my face are faster and better than any expensive face cream I have ever used:)

---

"Highly Recommended" (Posted by:

Donna

on 1/20/14)
I just start using this product only for a month but I notice the different with my hairs...not only that but also, my skin and nails are getting healthier. Love it!!! -

---

"fantastic!!!" (Posted by:

Lucy

on 1/20/14)
been using for 3 months and getting fantastic comments about my hair!!! "what shampoo are you using" etc. Can't say enough about your product and I've tried them all!

---

"Loving it" (Posted by:

Cat

on 1/20/14)
After, taking the Optimal Beauty for 2 months I realized the product did 2 two things for my hairs 1) hair is growing thicker 2) hair stopped shedding as much and I am one happy & satisfied customer Highly suggested this product to everyone man & woman included.