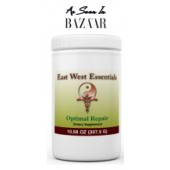 Optimal Repair Blend
What it is:
Optimal Repair Blend goes beyond has rich antioxidants and features green tea, ginger, flax seeds and other beauty enhancing superfoods in a pleasant tasting drink at only 30 calories per serving. Antioxidants and organic superfoods build cellular and help repair damaged skin due to stress and fatigue. Added probiotics and digestive enzymes designed to improve gut health are very helpful in naturally clearing up acne-prone skin.
What it does:
Optimal Repair Blend was formulated for the expedient recovery from free radical damage and helps with the production of collagen and elastin.
Benefits:
Our formula provides a unique combination of adaptogenic and tonic herbs allowing for the additional benefit of free radical damage protection and anti-aging properties. Optimal Repair Blend supports your core energy which can enable your immune system to be at it's optimum. It also helps your body "adapt" better to day-to-day stressors. Optimal Repair Blend helps balance the body's overall function to enhance and support natural detoxification.
Daily Schedule:
Blend shake or briskly stir 1 scoop of Optimal Repair Blend into 6-8 oz of chilled water or as directed by your healthcare practitioner. Adjust amount of water to desired sweetness and/or thickness.
Support:
All of us at East West Essentials have a passion for wellness and want to help you reach your health goals. We are here to support you throughout your journey. Our wellness specialists have led hundreds of people through our products and programs in and outside of our clinics. Please give us a call if you have any questions.
It is formulated without:
Wheat, soy, corn, grains, gluten, eggs, dairy, caffeine, harmful additives, preservatives, fillers, bleaching agents or hexane.
CAUTION:
If you have any major health concerns, check with your healthcare practitioner before use. Keep out of reach of children. Do not use if pregnant or lactating. Do not use if currently taking any prescription medication or receiving medical treatment without consulting your healthcare practitioner. Intended for adults over 18 years old. Avoid if allergic to any ingredient.
STORAGE:
Keep tightly closed in a clean, dry place. No refrigeration necessary.
TAMPER EVIDENT:
Do not use if safety seal is missing or broken.
East West Essentials products are manufactured in an NSF certified GMP registered facility. GMP refers to the Good Manufacturing Practice regulations as put forth by the US Food and Drug Administration.
Optimal Repair Blend
Optimal Repair Blend
Customer Reviews
---

"Yay!" (Posted by:

Maurine

on 8/26/15)
This repair blend is so yummy and really seems to help with my stress levels and my mood. It works wonderfully in my morning shakes!

---

"Yum" (Posted by:

Penedo

on 7/13/15)
I love this!! It's so delicious!

---

"Wow.." (Posted by:

Virginia

on 6/4/15)
So I've been drinking optimal repair shakes after my workouts for the past few weeks. Didn't know if it was really making a difference or not but wasn't feeling sore and exhausted after my workouts. I skipped drinking it the last two days because I honestly just forgot. And I HURT! I couldn't sleep last night! I couldn't get comfortable, my muscles were aching. Wow. This is a miracle shake! I won't be forgetting again!