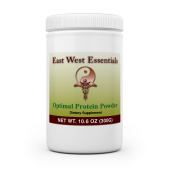 Optimal Protein Powder
What it is:
Optimal Protein Powder is an all natural, low glycemic protein powder with 16 grams of protein and 1 carbohydrate gram. Optimal Protein Powder is a patented and standardized source of immunoglobulins in a nutritionally advanced New Zealand whey protein concentrate. It is the ultimate in protein powders.
What it does:
Optimal Protein Powder clinically proven to boost the immune system, improve intestinal health, build lean body mass and fight pathogens.
Daily Schedule:
Have 1-2 Optimal Protein powder shakes per day or an after workout snack. If you are ready to follow a detailed program please consider our 5 Day Optimal Fat Blastor 7 Foods for 7 Days.
Support:
All of us at East West Essentials have a passion for wellness and want to help you reach your health goals. We are here to support you throughout your journey. Our wellness specialists have led hundreds of people through our products and programs in and outside of our clinics. Please give us a call if you have any questions.
It is formulated without:
Artificial sweetener, fillers, wheat, gluten, corn, soy, yeast, colors, or preservatives.
CAUTION:
If you have any major health concerns, check with your healthcare practitioner before use. Do not use if pregnant. Keep out of reach of children.
STORAGE:
Keep tightly closed in a clean, dry place. Contents sold by weight, not volume. Some settling may occur during shipping and handling.
TAMPER EVIDENT:
Do not use if safety seal is missing or broken.
East West Essentials products are manufactured in an NSF certified GMP registered facility. GMP refers to the Good Manufacturing Practice regulations as put forth by the US Food and Drug Administration.
Optimal Protein Powder
Optimal Protein Powder product video
Optimal Protein Powder
Customer Reviews
---

"Good stuff" (Posted by:

Carie

on 4/7/16)
Probably the best quality protein powder I've ever used. It mixes well, it tastes great, and not only am I getting the protein I so desperately need as a vegetarian but it's also helping my immune system. Great stuff East West!

---

"Great!" (Posted by:

Brian L.

on 7/13/15)
This is the best tasting protein powder I've ever had!

---

"Thanks!" (Posted by:

Nancy

on 6/4/15)
I live a vegetarian lifestyle so I'm always looking for ways to add protein in my diet. This is great because I can add it to any of my shakes or smoothies. It tastes great and helps me get all of the protein I need for my active lifestyle.

---

"So important" (Posted by:

Kelly

on 5/8/15)
Protein is such a vital part of an exercise and diet regime if you want success. This makes it so easy to get that necessary protein. It tastes great too!

---

"Help my health" (Posted by:

Nestor

on 10/21/13)
I am a 68 year old man with diabetes and it is very important for my health to have high protein in my diet. The Optimal Protein Powder tastes great and is really convenient for my busy schedule.