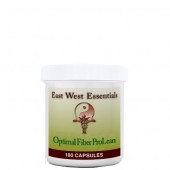 Optimal Fiber ProLean
What it is:
Our Optimal Fiber ProLean featured ingredient Propolmannan, boasts the highest molecular weight of any water-soluble fiber in the natural world. what does that mean? that it expands beyond regular fiber products Using cutting-edge technology, it has been reduced to a special particle size that maximizes density while remaining in a desirable viscous form. A 500 milligram capsule of propolmannan contains more fiber than the same milligram amount from other plants. Just as importantly, natural enzymes that would otherwise cause it to break down during digestion, have been removed.
What it does:
East West Essentials' proprietary, powdered fiber passes intact and continues to be stable through your entire digestive tract. Its unique sponge-like matrix then acts with positive hunger suppressing effects to impede excess calories from entering your bloodstream in three ways:
1. Quickly expands in the stomach, to make you feel full faster
2. Impedes the breakdown and assimilation of dietary fats by "soaking up" bile acids in the small intestine, shuttling them safely out of the body
3. Slows the rapid emptying of food from your stomach into the small intestine, blunting the after-meal glucose spike that would normally result
In other words, forms a stable, viscous barrier that slows down normal digestive processes intrinsic to body fat storage virtually side effect free. Placebo-controlled studies confirm its ability to induce moderate weight loss by reducing the rate of carbohydrate absorption and consistently lowering after-meal elevations in blood glucose, triglyceride, and LDL levels.
Daily Schedule:
Daily Schedule: Mix one to two scoops (1.6-3.2 g) in 8-12 oz of water or other non-alcoholic beverage and consume once per day, or mix one scoop as directed and consume 30 to 60 minutes before each of your two biggest meals.
Support:
All of us at East West Essentials have a passion for wellness and want to help you reach your health goals. We are here to support you throughout your journey. Our wellness specialists have led hundreds of people through our products and programs in and outside of our clinics. Please give us a call if you have any questions.
It is formulated without:
Harmful additives, preservatives, fillers, bleaching agents or hexane.
CAUTION:
If you have any major health concerns, check with your healthcare practitioner before use. Keep out of reach of children. Do not use if pregnant.
STORAGE:
Keep tightly closed in a clean, dry place.
TAMPER EVIDENT:
Do not use if safety seal is missing or broken.
East West Essentials products are manufactured in an NSF certified GMP registered facility. GMP refers to the Good Manufacturing Practice regulations as put forth by the US Food and Drug Administration.
Optimal Fiber ProLean
Optmal Fiber ProLean
Customer Reviews
---

"Real results" (Posted by:

Sofia

on 5/31/17)
Every time I try to lose weight or watch how much I'm eating, I use this optimal movement because it fills me up and I eat less for every meal. I've tried other fiber and I always feel bloated with them but this one showed consistent results, no wonder it's always sold out! This is also one of the products on their Amazon prime store so I can get it faster and it's never out of stock.