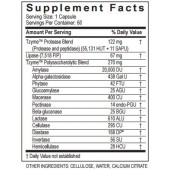 Optimal Digest Enzymes
What it is:
East West Essentials Optimal Digest is an enzyme supplement designed to help promote absorption of nutrients, health and vitality of cells, and improved overall digestive and immune system health.
What it does:
To benefit from all of the nutritious components of our food, a healthy digestive system is crucial. Several factors including genetics, stressful lifestyles, poor diet, processed foods, and the environment all influence digestion. Adding digestive enzymes to a healthy diet and lifestyle is the next step in health. Optimal Digest includes highly active enzymes with a range of benefits needed to digest the foods most commonly found in normal diets.
Benefits:
Once food is broken down into simple nutrients using Optimal Digest, the body can then use these for energy, growth, and repair. By supporting the digestion of carbohydrates, Optimal Digest reduces food intolerance, relieves occasional indigestion and gas, and encourages more complete digestion of fats and lipids to support pancreas, liver, and gall bladder health and wellness. Optimal Digest also supports the digestion of proteins for reduced risk of food sensitivities, toxins, and free radicals.
Daily Schedule:
Take one capsule with every meal, with at least 8oz of liquid or as directed by a health care practitioner.
Support:
All of us at East West Essentials have a passion for wellness. And want to help you reach your health and beauty goals. We are here to support you throughout your journey. Our wellness specialists have led hundreds of people through our products and programs in and outside of our clinics. Please give us a call if you have any questions.
It is formulated without:
Fish, harmful additives, preservatives, fillers, bleaching agents or hexane.
CAUTION:
If you have any major health concerns, check with your healthcare practitioner before use. Keep out of reach of children.
STORAGE:
Keep tightly closed in a clean, dry place. Do not freeze.
TAMPER EVIDENT:
Do not use if safety seal is missing or broken.
East West Essentials products are manufactured in an NSF certified GMP registered facility. GMP refers to the Good Manufacturing Practice regulations as put forth by the US Food and Drug Administration.
Optimal Digest Ingredients: