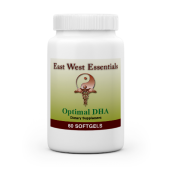 Optimal DHA
What it is:
Proper nutrition is a key way to fight infertility in women and men and East West Essentials' Optimal DHA is an essential component in maintaining health and wellness and a strong reproductive system. Docosahexaenoic Acid (DHA), one of the most abundant components of the human brain, is vital for proper development of brain and vision function of the fetus. It is a fatty acid nutrient vital for healthy fetal development.
What it does:
Optimal DHA provides a patented laboratory-produced vegetarian source of DHA. This unique algae-derived product contains no artificial colors or preservatives. A nutritionally complete fertility diet should include this important fatty acid to maintain proper brain, eye, heart fetal development. It is highly suggested DHA be taken prior to conception.
Daily Schedule:
Take 1 vegetarian softgel daily with a meal or as directed by your healthcare practitioner.
Support:
All of us at East West Essentials have a passion for wellness and want to help you reach your goal of creating a family. We are here to support you throughout your journey. Our wellness specialists have led hundreds of people through our products and programs, leading to successful pregnancies, in and outside of our clinics. Please give us a call if you have any questions.
It is formulated without:
Fish, harmful additives, preservatives, fillers, bleaching agents or hexane.
CAUTION:
If you have any major health concerns, check with your healthcare practitioner before use. Keep out of reach of children.
STORAGE:
Keep tightly closed in a clean, dry place. Do not freeze.
TAMPER EVIDENT:
Do not use if safety seal is missing or broken.
East West Essentials products are manufactured in an NSF certified GMP registered facility. GMP refers to the Good Manufacturing Practice regulations as put forth by the US Food and Drug Administration.
Optimal DHA for fertility & pregnancy
Optimal DHA for fertility & pregnancy product video
Optimal DHA