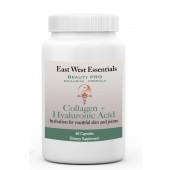 Optimal Collagen + Hyaluronic Acid
What it is:
Topical creams, serums, fillers and injections only treat the surface of the skin. A true skin rejuvenation can only be achieved from the inside. East West Essentials Optimal Collagen + Hyaluronic Acid helps provide hydration for youthful skin and joints. Our formula is a highly absorbable combination of hydrolyzed collagen type II and hyaluronic acid both essential for healthy joint, skin, and connective tissues.
What it does:
Optimal Collagen + Hyaluronic is known to promote healthy anti-aging and younger-looking skin. Our formula is also used to promote joint comfort ant mobility, to increase bone density and connective tissue formation for strong bones and flexible joints.
Daily Schedule:
Take 1 capsule two times per day
Support:
All of us at East West Essentials have a passion for wellness and want to help you reach your health goals. We are here to support you throughout your journey. Our wellness specialists have led hundreds of people through our products and programs in and outside of our clinics. Please give us a call if you have any questions.
It is formulated without:
Fish, harmful additives, preservatives, fillers, bleaching agents or hexane.
CAUTION:
If you have any major health concerns, check with your healthcare practitioner before use. Keep out of reach of children.
STORAGE:
Keep tightly closed in a clean, dry place. Do not freeze
TAMPER EVIDENT:
Do not use if safety seal is missing or broken.
East West Essentials products are manufactured in an NSF certified GMP registered facility. GMP refers to the Good Manufacturing Practice regulations as put forth by the US Food and Drug Administration.
Optimal Collagen + Hyaluronic Acid