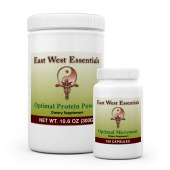 5-Day Optimal Fat Blast
What it is:
The Optimal Fat Blast is a quick 5 day food and supplement program designed to remove excess fat from the body. It is a perfect way to get ready for a special event, such as award shows, weddings or anytime you want to refresh yourself and feel leaner.
What it does:
The program uses a unique colostrum derived protein designed to lower the stress hormone cortisol that stimulates weight gain. It is coupled with the Optimal Movement which is know to increase blood flow, release fat in the colon, and reduce swelling in the gut.
Benefits:
With the Optimal Fat Blast the typical weight loss experience is 5 pounds in 5 days, with a significant reduction in bloating and fatigue, and many report renewed energy and vigor. This program can be used as often as needed and is completely pure and void of any fillers.
Daily Schedule:
Each day you will have a combination of East West Essentials Optimal Protein Powder shakes and a detailed list of specifically targeted foods. The program is designed for you to be having something every 3-3.5 hours (shake/food). You will also be taking 2 capsules of our Optimal Movement twice a day, to help promote healthy blood flow in the areas that are storing fat.
Support:
All of us at East West Essentials have a passion for wellness and want to help you reach your health goals. We are here to support you throughout your journey. Our wellness specialists have led hundreds of people through our products and programs in and outside of our clinics. Please give us a call if you have any questions.
It is formulated without:
Artificial sweetener, fillers, wheat, gluten, corn, yeast, colors, or preservatives.
CAUTION:
If you have any major health concerns, check with your healthcare practitioner before use. Do not use if pregnant. Keep out of reach of children.
STORAGE:
Keep tightly closed in a clean, dry place. Contents sold by weight, not volume. Some settling may occur during shipping and handling.
TAMPER EVIDENT:
Do not use if safety seal is missing or broken.
East West Essentials products are manufactured in an NSF certified GMP registered facility. GMP refers to the Good Manufacturing Practice regulations as put forth by the US Food and Drug Administration.
Optimal Protein Powder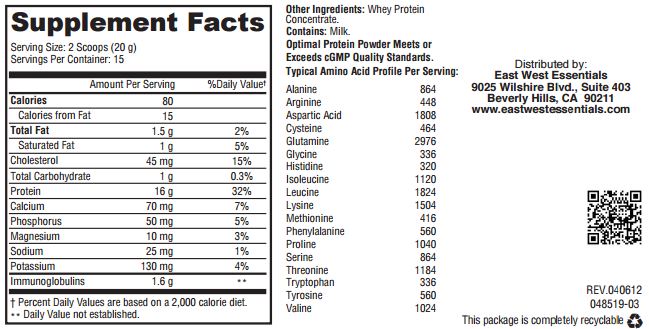 Optimal Movement