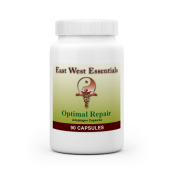 Optimal Repair Capsules
What it is:
Optimal Repair Adaptogens are powerful tonic herbs that have traditionally been used for adrenal restoration to restore what has been lost due to stress and overwork. They support the body's ability to recover faster from the physical and mental stresses of daily life.
What it does:
Optimal Repair Adaptogens are formulated for the expedient recovery from damaging physical or mental stress on the body that can be caused by extreme dieting, stimulates such as excessive coffee use, extreme workout programs, illness, overwork or other stressors that compromise our body's adrenal health.
Benefits:
Optimal Repair adaptogens recharge the adrenal glands and other hormone management systems. This allows the body to more effectively balance out stress-related hormones, such as cortisol, to normal levels. Optimal Repair Adaptogens help your body "adapt" better to day-to-day stressors, which can increase your energy levels and improve sleep cycles. Optimal Repair Adaptogens help balance the body's overall function to enhance your ability to lose weight.
Daily Schedule:
Take 3 capsules daily or as recommended by your healthcare practitioner.
Support:
All of us at East West Essentials have a passion for wellness and want to help you reach your health goals. We are here to support you throughout your journey. Our wellness specialists have led hundreds of people through our products and programs in and outside of our clinics. Please give us a call if you have any questions.
It is formulated without:
Wheat, soy, corn, grains, gluten, eggs, dairy, caffeine, harmful additives, preservatives, fillers, bleaching agents or hexane.
CAUTION:
Optimal Repair Adaptogens contain licorice (Glycyrrhiza glabra), therefore patients with hypertension should only use this product under the care of a healthcare practitioner. If you have any major health concerns, check with your healthcare practitioner before use. Keep out of reach of children. Do not use if pregnant or lactating.
STORAGE:
Keep tightly closed in a clean, dry place. No refrigeration necessary.
TAMPER EVIDENT:
Do not use if safety seal is missing or broken.
East West Essentials products are manufactured in an NSF certified GMP registered facility. GMP refers to the Good Manufacturing Practice regulations as put forth by the US Food and Drug Administration.
Optimal Repair Adaptogen Capsules.