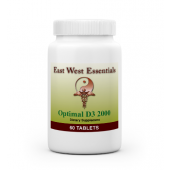 Optimal D3 5000
What it is:
Vitamin D3, the ideal form of vitamin D, is produced by the skin when exposed to sunlight. Although it is produced by the body, many factors such as limited sunlight exposure and insufficient dietary sources can limit the amount of vitamin D our bodies produce. Optimal D3 2000 helps to provide the optimal form of vitamin D that supports healthy levels of calcium in the body. Research also suggests D3 improves immune, neurological, musculoskeletal, cellular, and cardiovascular health.
What it does:
D3 is the ideal form of vitamin D that is synthesized in the body to help regulate metabolism of vitamin D and sugars. Vitamin D is also needed in order for the body to be able to absorb calcium, a vital component in bone growth. In its active form as calcitriol, it contributes to skin cell growth, repair, and metabolism. It optimizes the skin's immune system and helps destroy free radicals that can cause premature aging.
Benefits:
Optimal D3 2000 supports a healthy immune system, strengthens bones and teeth, and has been shown to help prevent high blood pressure, osteporosis, and cancer. D3 helps to replenish essential nutrients to the body for healthier, better looking skin. In addition to improving overall health, vitamin D3 2000 plays an integral role in skin protection and rejuvenation.
Daily Schedule:
Take 1 softgel daily
Support:
All of us at East West Essentials have a passion for wellness and want to help you reach your health goals. We are here to support you throughout your journey. Our wellness specialists have led hundreds of people through our products and programs in and outside of our clinics. Please give us a call if you have any questions.
It is formulated without:
Wheat, gluten, corn, yeast, soy, dairy products, fish, shellfish, peanuts, tree nuts, egg, artificial colors, artificial sweeteners, or preservatives.
CAUTION:
Check with your healthcare practitioner before use. Keep out of reach of children. Use recommended dose only unless advised by your healthcare practitioner
STORAGE:
Keep tightly closed in a clean, dry place. Do not freeze
TAMPER EVIDENT:
Do not use if safety seal is missing or broken.
East West Essentials products are manufactured in an NSF certified GMP registered facility. GMP refers to the Good Manufacturing Practice regulations as put forth by the US Food and Drug Administration.
Optimal D3 5000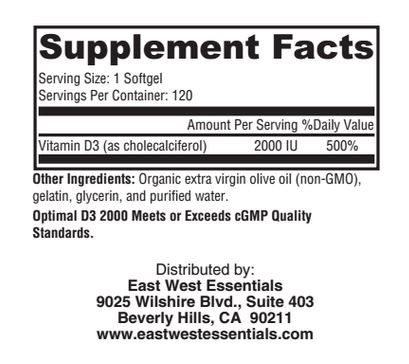 Customer Reviews
---

"Fantastic!" (Posted by:

Jon B.

on 7/13/15)
My doctor recommended getting more D3 into my diet. My wife is a huge EWE fan so I knew exactly where to go. Terrific pricing and a great product. Thanks!