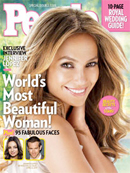 "Several times a year, she'll do the 5-Day Optimal Cleanse when she wants to look good for a special occasion."

Jennifer Lopez
Quoted in PEOPLE Magazine as 2011's "Most Beautiful Woman in the World"
The Optimal Cleanse from East West Essentials. The "American Idol" judge said, "My nutritionist loves this, she was like, 'I can't believe you mentioned the Optimal Cleanse!' It's a really good cleanse. This is something that actually cleans out your intestines and everything that builds up, you feel much lighter and, of course, you do drop a few pounds. You can do it for 10 days, but I do it for five days when I feel like I need a break from eating bad."
We all know how great singing superstar Jennifer Lopez looks, but now she's telling "Extra" how she does it -- watch the video!