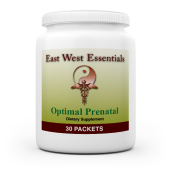 Optimal Prenatal Blend
What it is:
Choosing a prenatal supplement is an essential step in a healthy pregnancy. That's why the doctors of East West Essentials have created the Optimal Prenatal Blend specifically to enhance reproductive health, nourish the demands of nursing and early motherhood, reduce the incidence of miscarriage, increase fetal birth weight and lower the risk of neural tube defects. Optimal Prenatal Blend is conveniently packaged in a single dose packet.
What it does:
When used to help support fertility, this prenatal blend reduces the incidence of miscarriage, increases fetal birth weight, and lowers the risk of neural tube defects while helping to sustain a healthy thyroid function. The rapidly dividing cells of the developing fetus require biotin for DNA replication and synthesis of essential carboxylases, and Optimal Prenatal Blend provides this. To help reduce the risk of folate resistant neural tube defects, our doctors have added 50 mg of inositol to our Optimal Prenatal Blend.
Daily Schedule:
Take 1 packet daily.
Support:
All of us at East West Essentials have a passion for wellness and want to help you reach your goal of creating a family. We are here to support you throughout your journey. Our wellness specialists have led hundreds of people through our products and programs, leading to the successful delivery of healthy babies, in and outside of our clinics.
It is formulated without:
Artificial sweetener, fillers, wheat, gluten, yeast, colors, or preservatives.
CAUTION:
If you have any major health concerns, check with your healthcare practitioner before use. Keep out of reach of children.
STORAGE:
Keep tightly closed in a clean, dry place.
TAMPER EVIDENT:
Do not use if safety seal is missing or broken.
East West Essentials products are manufactured in an NSF certified GMP registered facility. GMP refers to the Good Manufacturing Practice regulations as put forth by the US Food and Drug Administration.
Optimal Prenatal Blend
Optimal Prenatal Blend product video
Optimal Prenatal Blend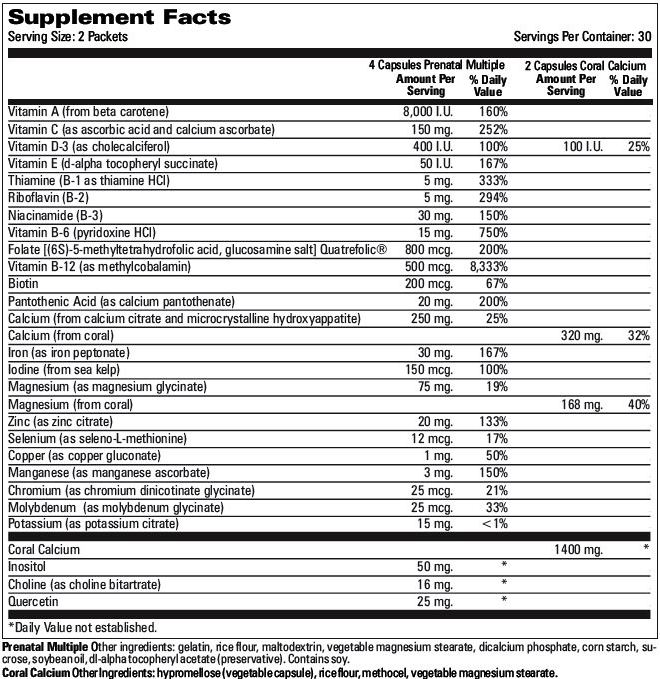 Customer Reviews
---

"This is fantastic!" (Posted by:

Cindi

on 4/20/16)
I'm actually not trying to get pregnant, I just take these because it's such a well rounded product for women. And now that it includes DHA it's that much better! I love that I get all of the vitamins I need in one packet a day.

---

"Woo hoo!" (Posted by:

Addison

on 2/1/16)
Happy to report I'm healthy and expecting after six months of taking these!

---

"Great!" (Posted by:

Birche

on 12/3/15)
Makes prenatal vitamins a breeze!

---

"Has everything I need" (Posted by:

Genevieve

on 10/19/15)
I am pregnant with my first child. I researched all over what vitamins and how much of them I needed since my first prenatal appointment isn't until a few weeks but I wanted to start on them already.

Thankfully the Optimal Prenatal Blend included all the different vitamins I needed and the correct amount of them I needed too. I've taken them with food and have had no issues like I heard alot of prenatal supplements give you. So I will use this vitamin throughout my pregnancy and for the first months as it suggests :-)

---

"The physician will see you now!" (Posted by:

Dr. Cameron

on 8/4/15)
I'm a fertility specialist and I recommend this to all of my patients. I have found no better product on the market.

---

"For all" (Posted by:

Katisha

on 7/9/15)
I take these even though I'm not what you would term as prenatal because the vitamins in this pack are just SO good for me and for all womens health!

---

"Perfecto" (Posted by:

Austie

on 7/4/15)
I would not go anywhere else for my prenatal health!

---

"Trustworthy" (Posted by:

Madri

on 6/16/15)
There's no one else I would trust with my prenatal health than EWE. All natural, organic, made in the USA, formulated by moms for moms. No brainer.

---

"Quality product!!!!!" (Posted by:

Olivia

on 11/9/14)
This is my favorite prenatal. All of the other ones I have tried made me nauseous, but the optimal prenatal never has.

---

"Love it!" (Posted by:

Rachel

on 10/19/14)
Great prenatal from East West Essentials! My doctor told me to find a prenatal that uses beta carotene. It was hard to find but now I have it shipped every month.

---

"Help me with my pregnancy" (Posted by:

Sharon

on 10/21/13)
I have been taking the East West Essentials prenatal for two years now. I took them during my pregnancy, during which I felt energized and nourished. I continued the prenatal during nursing, when there was concern about my calcium intake and bone health. I still take the prenatal now, just as my daily multivitamin, because I trust that they are such high quality, and I feel great when I take them. I also know that I'm laying a great nutritional foundation for the next pregnancy.

---

"got me thru my pregnancy" (Posted by:

PG

on 6/3/13)
my "Dr. Recommended" prenatals were making me so nauseous and then I started take the East West brand prenatal - recommended by my nutritionist - and NO nasuea or constipation throughout my pregnancy!! Highly recommended!!

---

"best pre and post natal vitamin" (Posted by:

Donna

on 5/30/13)
Every single prenatal vitamin that I tried during each of my two first pregnancies made me absolutely sick to my stomach, and sadly would cause me to toss my cookies even when "morning" sickness was long gone. A friend of mine had these Optimal Prenatal Blend and I tried some while I was staying at her house and they didn't cause even the slightest stomach upset. Not even when I took them on an empty stomach! I used these vitamins before, during and after my pregnancy and still taking them now while breastfeeding. My OB was all very impressed with them too. I won't even bother trying anything else because these are perfect for me. Thanks EWE :)