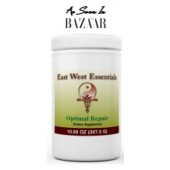 Optimal Repair Blend
What it is:
Optimal Repair Blend is a powerful blend of nutrient-dense organic greens, vegetables, fruits, berries, phytonutrients, antioxidants, organic fiber sources, probiotics, and digestive enzymes. All these powerful ingredients extracted into only 30 calories per delicious drink. It goes beyond nutritional therapy by also featuring a proprietary blend of adaptogens, which come from powerful tonic herbs that have traditionally been used for adrenal restoration to build the body and restore what has been lost due to stress and fatigue. Our high quality blend features OxyPhyte®, a bioavailable, antioxidant-rich blend of green tea and apple extracts. In addition, trubroc™ broccoli seed extract with standardized glucoraphanin content is present to provide long-lasting antioxidant support. Lactose-free and suitable for vegans
What it does:
Optimal Repair Blend was formulated for the expedient recovery from damaging physical or mental stress on the body that can be caused by extreme dieting, extreme workout programs, illness, overwork or other stressors that compromise our body's core health.
Benefits:
Our formula provides a unique combination of adaptogenic and tonic herbs allowing for the additional benefit of free radical damage protection and anti-aging properties. Optimal Repair Blend supports your core energy which can enable your immune system to be at it's optimum. It also helps your body "adapt" better to day-to-day stressors, which can increase your energy levels and improve sleep cycles. Optimal Repair Blend helps balance the body's overall function to enhance your ability to lose weight and support natural detoxification. You can enhance your Optimal Repair Blend for weight loss and recovery by using our colostrum derived Optimal Protein Powder at the same time. (Mix one scoop of the Optimal Repair Blend with 1 scoop of the Optimal Protein Powder) Or you may follow the 7 day Restorative Program that includes both products along with a detailed program guide.
Daily Schedule:
Blend shake or briskly stir one scoop of Optimal Repair Blend into 6-8 oz of chilled water or as directed by your healthcare practitioner. Adjust amount of water to desired sweetness and/or thickness.
Support:
All of us at East West Essentials have a passion for wellness and want to help you reach your health goals. We are here to support you throughout your journey. Our wellness specialists have led hundreds of people through our products and programs in and outside of our clinics. Please give us a call if you have any questions.
It is formulated without:
Wheat, soy, corn, grains, gluten, eggs, dairy, caffeine, harmful additives, preservatives, fillers, bleaching agents or hexane.
CAUTION:
If you have any major health concerns, check with your healthcare practitioner before use. Keep out of reach of children. Do not use if pregnant or lactating. Do not use if currently taking any prescription medication or receiving medical treatment without consulting your healthcare practitioner. Intended for adults over 18 years old. Avoid if allergic to any ingredient.
STORAGE:
Keep tightly closed in a clean, dry place. No refrigeration necessary.
TAMPER EVIDENT:
Do not use if safety seal is missing or broken.
East West Essentials products are manufactured in an NSF certified GMP registered facility. GMP refers to the Good Manufacturing Practice regulations as put forth by the US Food and Drug Administration.
Optimal Repair Blend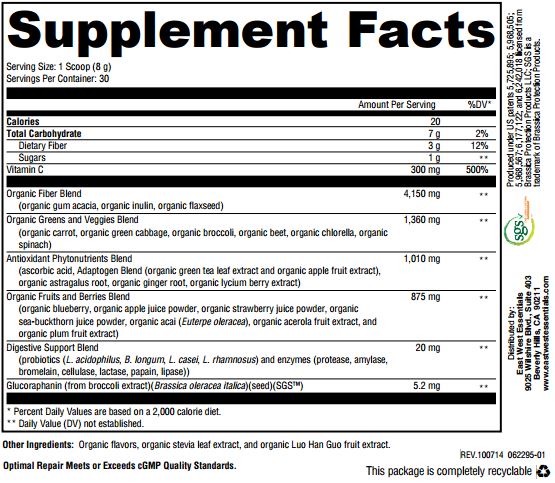 Customer Reviews
---

"Yum!" (Posted by:

Knuds

on 4/7/16)
Not only is this great for my body both inside and out but it tastes excellent. So easy to mix into juice. What an easy way to get essential raw nutrients!

---

"Great for skin" (Posted by:

Jamie

on 10/22/15)
I love what this product has done for my skin. I have less acne and body blemishes. My skin is no longer super oily and unmanageable.

---

"Delicious!" (Posted by:

Gray

on 10/9/15)
I love superfood powders but they normally taste so darn bad I have to mix them with alot of stuff. Frankly I don't have the time. This Repair Blend is so good I can mix it straight into a water bottle and actually enjoy it. The benefits are enormous, I'm so glad I found this!

---

"Great!" (Posted by:

Danny V.

on 9/16/15)
I no longer struggle with energy and muscle fatigue. This is a delicious mix and so very beneficial. I love it.

---

"Superb" (Posted by:

Damien

on 8/5/15)
Tastes great, works great, no complaints!

---

"Tasty" (Posted by:

Supera

on 8/3/15)
I look forward to my repair shake every day after working out. It's delicious and takes care of my aching muscles.

---

"Great" (Posted by:

Gridget

on 7/20/15)
Hey I just wanted to stop by and say how much I love this repair blend. It's delicious and fantastic and my body thanks you!

---

"Yum yum yum" (Posted by:

Detchz

on 7/9/15)
It's so tasty too!

---

"Miraculous" (Posted by:

Zea

on 7/4/15)
This product is the only reason I can tolerate going to the gym every day! Not sure how but it takes away all of the aches and pains!

---

"Awesome!!!" (Posted by:

Maurice

on 7/3/15)
They have everything you need here! Heather Wilson is awesome!!! Very knowledgeable of all of her products! Had answers to all of our questions. Thanks for helping us out!

---

"Terrific" (Posted by:

Eignes

on 6/27/15)
I just love this! I haven't found anything even as remotely good as this is. Yum yum yum!

---

"Yummy" (Posted by:

Addie

on 6/9/15)
My favorite shake to have post workout!!! So delicious!

---

"Excellent" (Posted by:

Adiran

on 6/2/15)
Just wanted to say thanks to drinking this repair blend after workouts I'm never sore and dragging the next day!

---

"Lean, mean, fighting machine!" (Posted by:

Sergei

on 5/18/15)
My wife and I absolutely love the repair blend. We mix it into some almond milk after workouts, it tastes great! Neither one of us ever feels sore after workouts now, we're always ready to go the next day! No cramps, no strains, no pain!

---

"Best after-gym snack" (Posted by:

Jan

on 5/13/15)
This is probably the best thing you can drink after a demanding workout. It's tasty, hydrating, and it's going to repair the muscles you just overworked. I workout M-F with no days off and I'm never sore or exhausted.

---

"Beneficial" (Posted by:

Mandy

on 5/12/15)
I started taking this because I ramped up my workout routine ahead of summer but didn't want to crash and burn. I drink a repair shake after I workout and I'm not sore the next day and I don't end up binging on junk foods because I burned so many calories during my workout. It's tasty and satisfying, and it's helping me alot!

---

"So important" (Posted by:

Nicholas

on 5/11/15)
Working out and eating right is great but you also need to repair the damage from intense workouts and dieting. This does that! And it tastes great!

---

"Better hair and skin!" (Posted by:

Mindy

on 5/7/15)
I've always struggled with my hair. It's dry, it gets frizzy, I spend too much time making it look good each morning. Since taking this I've gotten healthier hair. It's more manageable now! Not only that but my skin is looking better than ever. I've always had uneven, oily skin. Now I barely need any makeup! This stuff is fantastic.

---

"Don't know how, but it works!" (Posted by:

Ally

on 5/7/15)
I don't get it, but since I've been taking this my skin, hair, and self are feeling and looking so much better! My skin is bright and clear, my hair is soft and luscious, and my body is slimming and energetic! I love this product!

---

"Awesome results" (Posted by:

Becca

on 8/22/14)
I have not been able to lose weight for years. I know something had changed because I used to be able to lose weight without too much effort. I started using the Optimal Repair two months ago and now I feel like I am not so sensitive to everything I eat and have finally lost most of the weight. (I like to add in one scoop of the Optimal Protein Powder and use them together in the morning). I feel like my metabolism is back to like when I was younger.

---

"My skin looks great" (Posted by:

Grace

on 8/13/14)
This product has made a huge difference in my skin. Before my skin was so dull and dry and looked super aged. I had read about taking these antioxidants to help repair my skin and decided to try the Optimal Repair Blend. I immediately noticed a huge difference. I have gotten so many compliments on my skin just from a single change in my daily routine. This product is great (and it's only like 35 calories)!

---

"Fantastic product!" (Posted by:

Jackie

on 8/13/14)
Have been using Optimal Repair Blend for several months now and I'm feeling so much better! Before I was dragging home from work every day with no energy left to do the things I enjoy. On top of that I would have trouble sleeping!! After Optimal Repair I am feeling more stable and have an increase in energy throughout the day (so when the day is over I can get a good nights sleep). Now I use it in my morning shake with fruit during the week. So happy I have found what I need to help with my stress and heavy workload.
Thank you East West Essentials!!!

---

"Great results!!" (Posted by:

Paige

on 8/12/14)
My doctor told me I had issues with my adrenals and hormones and suggested I try the Optimal Repair Blend. I have been taking it for 6 mos. now and I can't believe the difference. It was so much easier for me to lose weight after the first month and I can now keep it off for once in my life. I started with twice per day and now I take it once per day.

---

"Amazing product!" (Posted by:

Carly Craig

on 5/22/14)
Amazing product. I lost a few pounds, my energy was through the roof, and my skin and hair were healthier than ever. I do it a few times a year and would recommend it to anyone. Oh, and the bonus is that it's not difficult to do and you'll probably change a few of your bad eating habits when you're through because of how good you'll feel eating clean food.

---

"Amazing new product...love it!!! " (Posted by:

Wendy

on 7/9/13)
I absolutely love how this product's taste & how easy it is to mix with the Optimal Protein Powder. It's the perfect way to start my day & after the 1st week I felt thinner & more balanced. I'm starting week two today & can't wait to see what happens.