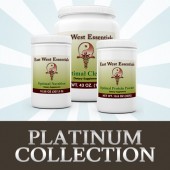 Platinum Optimal Cleanse
What it is:
The Optimal Cleanse Platinum Program is a 3 in 1 approach to overall cleansing and repair. The concept of our specifically designed program is based on your body's 3 most crucial areas of function: Cleanse (ability to release toxins) Restore (to regenerate energy and acid/alkaline balance, enhance your metabolism) and Convert (the process of fat to lean muscle transformation). The Optimal PLATINUM Program is a 12 day program including a strategic rotation of specific foods, powered up with daily "Restorative Shakes" and USA rice protein based "Optimal Cleanse Shakes".
What it does:
The Optimal Cleanse Platinum Program helps your body release toxins, improve energy and mental clarity, can improve your adrenal function, promotes pH balance, and assist your body in going after fat and converting it to lean muscle.
Benefits:
This pharmaceutical grade program is designed to detoxify and cleanse, enhance weight loss, restore your acid/alkaline balance, help convert fat to lean muscle, boost energy and mood. It has powerful anti-aging properties and stimulates "good" gut bacteria. This program is perfect for those bodies that have been exposed to excessive fatigue, harmful toxins, damage due to "yo yo" dieting, over exercising or extreme stress. All which wreak havoc on our bodies and make it extremely difficult to lose weight.
Daily Schedule:
Each day you will have a combination of East West Essentials Optimal Protein Powder shakes, Optimal Cleanse, and Optimal Nutrition, along with specifically targeted foods. The program is designed for you to be having something every 3-3.5 hours (shake/food).
Support:
All of us at East West Essentials have a passion for wellness and want to help you reach your health goals. We are here to support you throughout your journey. Our wellness specialists have led hundreds of people through our products and programs in and outside of our clinics. Please give us a call if you have any questions.
It is formulated without:
Artificial sweetener, fillers, wheat, gluten, corn, yeast, colors, or preservatives.
CAUTION:
If you have any major health concerns, check with your healthcare practitioner before use. Do not use if pregnant. Keep out of reach of children.
STORAGE:
Keep tightly closed in a clean, dry place. Contents sold by weight, not volume. Some settling may occur during shipping and handling.
TAMPER EVIDENT:
Do not use if safety seal is missing or broken.
East West Essentials products are manufactured in an NSF certified GMP registered facility. GMP refers to the Good Manufacturing Practice regulations as put forth by the US Food and Drug Administration.
Khloe Kardashian loves the Optimal Cleanse!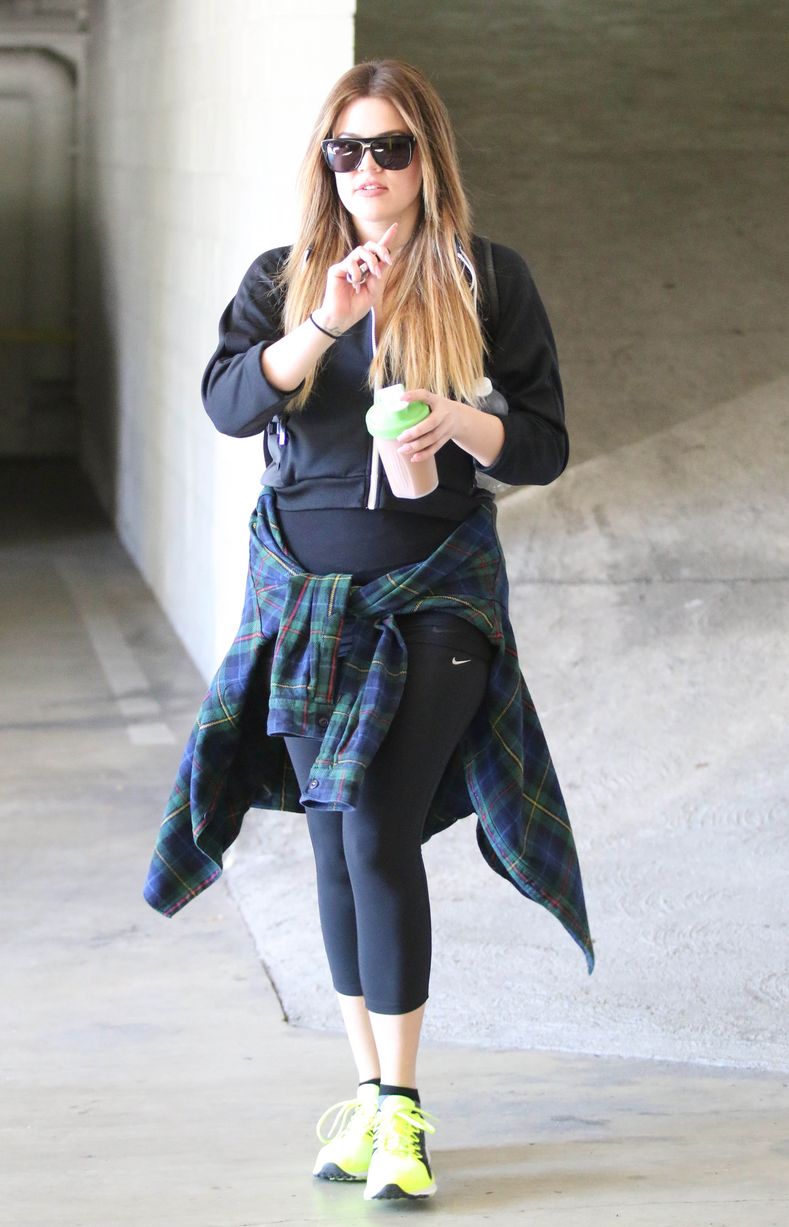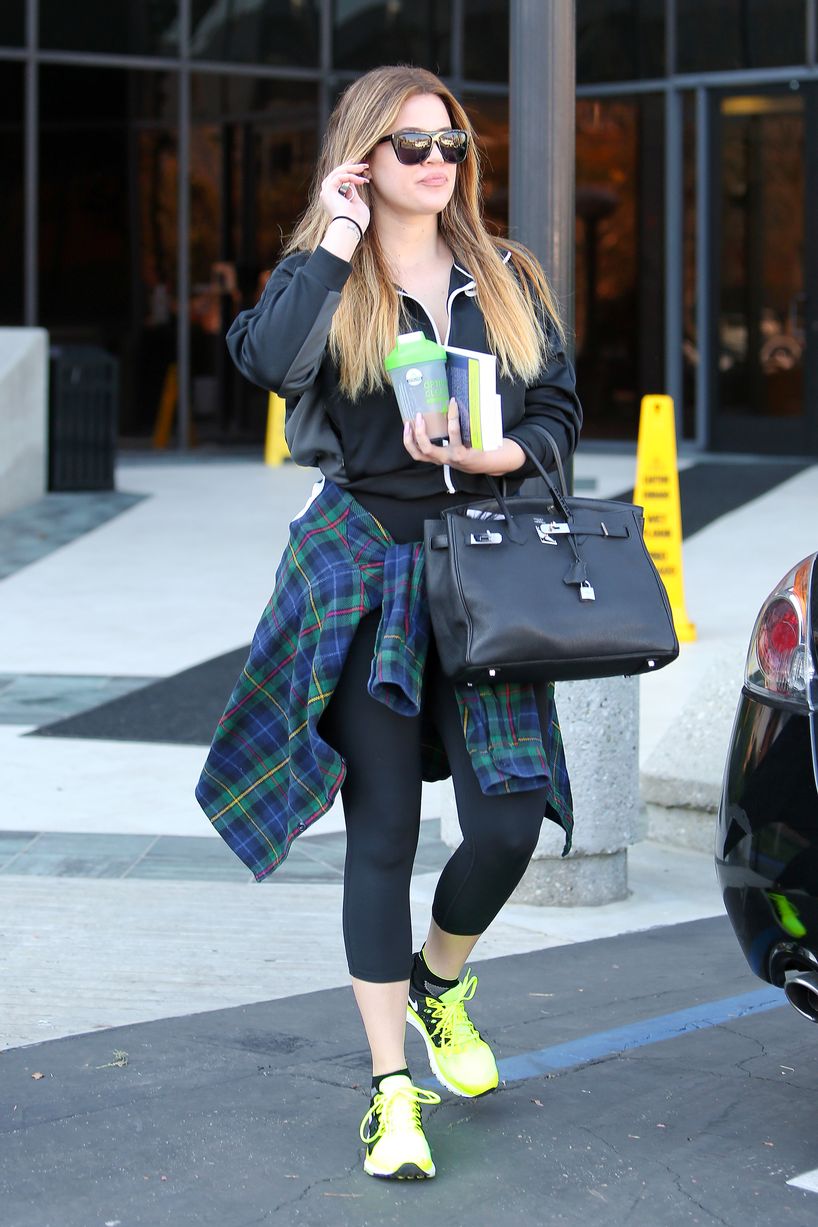 Optimal Cleanse Chocolate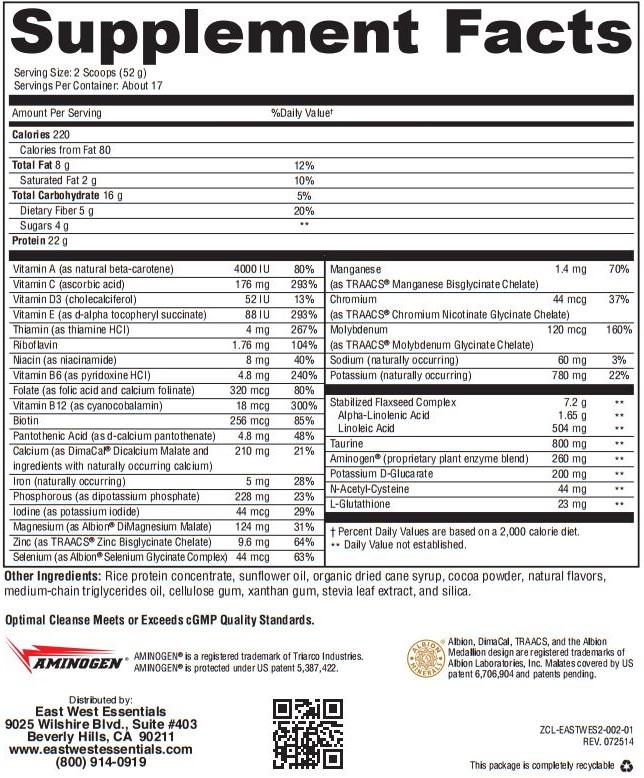 Optimal Cleanse Original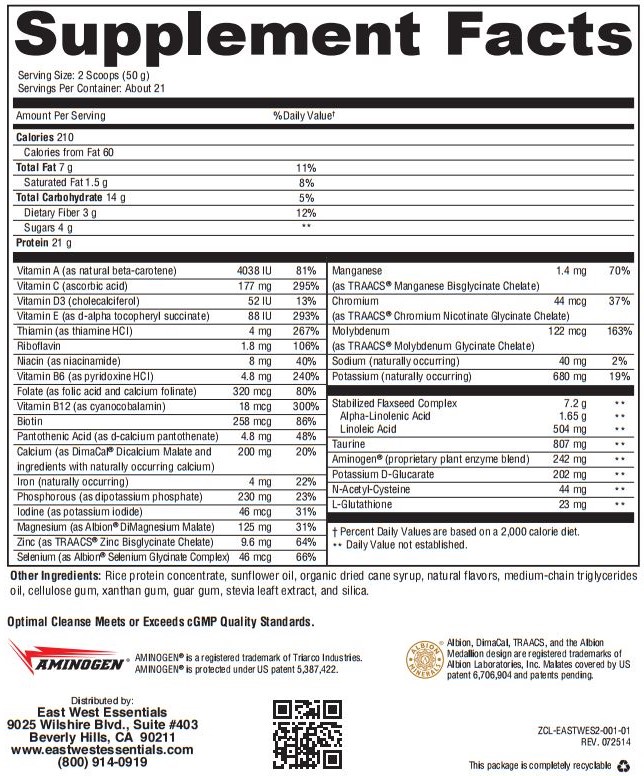 Optimal Protein Powder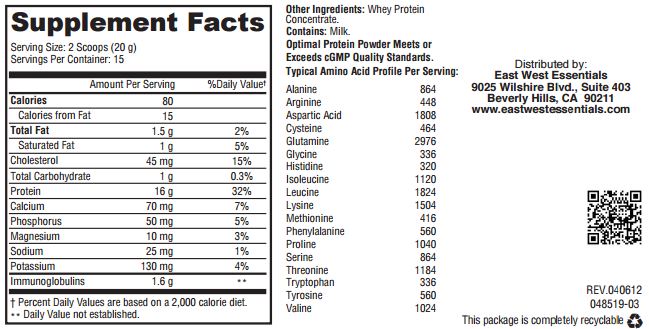 Optimal Repair Blend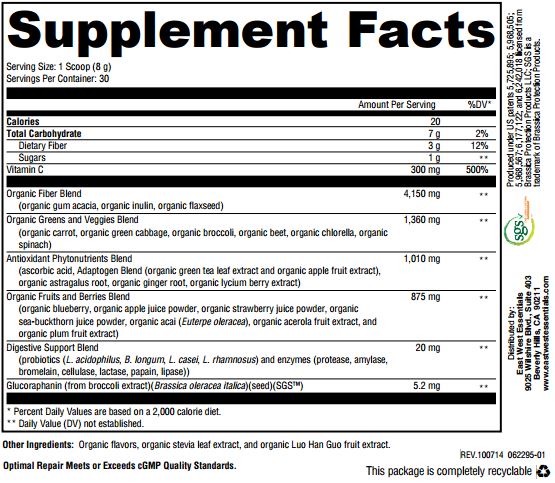 Customer Reviews
---

"Groovy!" (Posted by:

Nickelle

on 2/2/16)
You're a shining star, no matter who you are! Take care of yourself the platinum way! I feel like a million bucks after doing this!

---

"Duh." (Posted by:

Jordan

on 8/21/15)
This is a win-win situation. Weight loss, feeling good, better nutrition, no longer craving junk, and I look fantastic! Everyone at East West Essentials was super helpful! I was able to reach them whenever I had a question or needed some encouragement. I drink the MealFast now, it's delicious!

---

"SUPERSTAR" (Posted by:

Chandra

on 7/4/15)
I felt like a platinum superstar after this program.

---

"Love" (Posted by:

Judy

on 6/22/15)
This was such an easy cleanse to do! I wasn't starving and I had plenty of energy. I would do this again in a heartbeat!

---

"Praise" (Posted by:

Singha

on 5/23/15)
I read about East West Essentials in Harper's Bazaar Magazine and I've spoken with Heather, she is such a wealth of information. I'll be doing this cleanse again, it helped me lose 8lbs!

---

"Regular user" (Posted by:

Cheay

on 5/19/15)
I do the optimal platinum cleanse every 3 months. It feels amazing. My body feels clean inside and out. It's especially great after a vacation or holiday when I've consumed way too many bad things. I regularly lose 5-10lbs after a cleanse and feel good enough to work out harder and lose a bit more.

---

"The perfect cleanse" (Posted by:

Stephanie

on 1/30/15)
I have a very sensitive stomach and in past most cleanses I have tried have proven to be to harsh for me. That being said, I had been struggling to find a cleanse on the market that wasn't so harsh on my stomach and East West Essential's cleanse was it. I loved the fact that my order came with a booklet giving me all sorts of different recipes to chose from while I finished the cleanse. I have finished all ten days of the cleanse and am feeling better than ever. I know as soon as the new year is here that I will likely be ordering again.

---

"The Best" (Posted by:

Catherine H

on 1/30/15)
I recently tried my first East West Essentials product when I ordered your 10 day Optimal cleanse. I had never even tried a cleanse before, and I was a bit skeptical about having days where my nutrition would be provided solely in liquid form. However, I was amazed at the results! Not only did I not crave food on the shake-only days, I have craved the shake since the cleanse ended! The nutrition packed into your powder is so much better than what I was giving my body in other forms, and I was impressed with how filling and satisfying it was. In addition, despite consuming less calories, I felt more energized than ever before! I would happily recommend this cleanse program to anyone interested in finding out how great their body can really feel!

---

"Amazing!" (Posted by:

Emilee

on 1/30/15)
I lost 10 pounds on the Optimal Cleanse. I'll be back!

---

"15 lbs in 10 days" (Posted by:

Lisa

on 1/30/15)
Hi girls!! First of all you are so wonderfully nice on the phone, and informative!! Thank you much:))) The product rocks! OMG! I lost 15 lbs in 10 days. Not only that I feel so good and balanced. The nutrients must be perfect and exactly what my body needed! 10 days went by so fast. I ordered more optimal cleanse because I want to maintain perfection. Seriously!!

---

"It never disappoints!" (Posted by:

Tami

on 1/30/15)
I did my first Optimal Cleanse one year ago and I am currently on my third round. I workout five days a week at the gym doing weight training and cardio. When I completed my first cleanse I was absolutely amazed at how great I felt. Physically, I leaned down and toned up in 10 days and had BODYBUILDERS asking me how I did it. Mentally, I have never felt better in my life. With these amazing results I have been a true believer in all of Eastwestessentials.com products. I have implemented the Omega 3 Fatty Acids and the Stress Blend supplements into my diet. I swear by these products and the health benefits they offer me. Thank you so much Heather and Haylie for turning me onto this healthy lifestyle!!!

---

"Life Changing Program" (Posted by:

Philip

on 1/30/15)
I've always made physical fitness a priority in my life but have not always been so kind to my body while pursuing that goal. Shortcuts with products that make bold promises but did little more than reduce the size of my wallet. . Needless to say I was skeptical about Optimal Cleanse. But I felt it was time to get back to a natural way of doing things and after researching the company and the product I felt I was making a good investment in my health. The optimal cleanse program was terrific! It's rare to find a product that not only lives up to it's claims but exceeds your expectations. I feel better. I look better. It's been said before but warrants saying again...it's a life changing program.

---

"Cleanse" (Posted by:

Sandy

on 1/30/15)
When I decided to try optimal cleanse, I made sure to prepare and have most of the detox food items in my kitchen so I could follow the plan to a T. I expected it to be hard but by day three I was amazed at how great I felt and most of all not hungry. I guess since my body was getting the nutrients it craved from optimal cleanse it felt satisfied. My mind felt clear and it was easier to focus. I had more energy than I've had since I was 18 , I'm 46. By day ten over 10 lbs. had melted off my body and I have a waist again. I have since had a consultation with Haylie where she outlined a maintenance plan and also gave me many recipes to help me stay on track with my new healthy lifestyle.