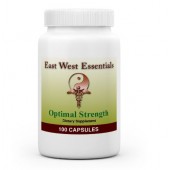 Optimal Strength
What is is:
Optimal Strength is a very comprehensive and effective formula to treat specific and general constitutional disorders. It strengthens core health issues such as immunity, longevity and long term vitality.
What it does:
Our formula has adaptogenic functions to enhance both mental and physical functions. It enhances the core metabolism and increases overall energy levels. It boost the immune system and can increases the number of white bloods cells and can address anemia by increasing the number and function of red blood cells.
Benefits:
It can be used to treat chronic fatigue syndrome (constant tiredness, low energy, lack of interest, etc.) Is a general tonic to increase both mental and physical functions, enhances academic and sports performance. Can enhance recovery from surgery, severe illness, childbirth, etc. Helps with anemia with dizziness, fatigue, lack of energy or poor appetite. Is anti-aging, enhances longevity, and promotes general wellness.
Daily Schedule:
Take two every day.
Support:
All of us at East West Essentials have a passion for wellness and want to help you reach your health goals. We are here to support you throughout your journey. Our wellness specialists have led hundreds of people through our products and programs in and outside of our clinics. Please give us a call if you have any questions.
It is formulated without:
Artificial sweetener, fillers, wheat, gluten, corn, soy, yeast, dairy, colors, or preservatives.
CAUTION:
If you have any major health concerns, check with your healthcare practitioner before use. Do not use if pregnant. Keep out of reach of children.
STORAGE:
Keep tightly closed in a clean, dry place. Contents sold by weight, not volume. Some settling may occur during shipping and handling.
TAMPER EVIDENT:
Do not use if safety seal is missing or broken.
East West Essentials products are manufactured in an NSF certified GMP registered facility. GMP refers to the Good Manufacturing Practice regulations as put forth by the US Food and Drug Administration.
Customer Reviews
---

"Soccer" (Posted by:

David B.

on 7/13/15)
My coach recommended I amp up my vitamin regimen so I called East West Essentials and asked what I should take. Dr. Wilson recommended this. I feel stronger and my endurance is better already.