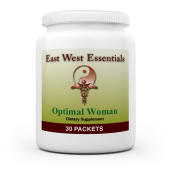 Optimal Woman
What it is:
The Optimal Woman is a comprehensive, packeted multivitamin loaded with antioxidants, minerals, and all the nutrients an active woman needs daily. It provides co-nutrients for iron absorption like zinc, inositol, choline, and B vitamins. We use the best quality nutrients such as iron peptonate which is a more easily assimilated form of iron and less likely to cause nausea and constipation. The Optimal Woman is very easy on the GI tract and easy to absorb and digest.
What it does:
The Optimal Woman is specifically formulated to enhance women's health. It's nutrients are targeted to support strong bone density, healthy cardiovascular function and promote breast health. It is enhanced with strong anti-aging properties. Our daily supplements are made with high quality, natural ingredients that allow for optimal absorption and bio-availability.
Benefits:
It benefits your body by promoting strong bone density, heart health, and breast health. It's ratio balanced B vitamins support healthy adrenal and liver function. Enhanced with strong anti-aging properties, it promotes skin elasticity, collagen and elastin. The Optimal Woman protects cells from free radical damage by providing vitamins A, C, E, and quercetin.
Daily Schedule:
Take one packet in the morning and one packet in the afternoon or evening.
Support:
All of us at East West Essentials have a passion for wellness and want to help you reach your health goals. We are here to support you throughout your journey. Our wellness specialists have led hundreds of people through our products and programs in and outside of our clinics. Please give us a call if you have any questions.
CAUTION:
Do not use if pregnant. Keep out of reach of children.
STORAGE:
Keep tightly closed in a clean, dry place.
TAMPER EVIDENT:
Do not use if safety seal is missing or broken.
East West Essentials products are manufactured in an NSF certified GMP registered facility. GMP refers to the Good Manufacturing Practice regulations as put forth by the US Food and Drug Administration.
Optimal Woman
Optimal Woman product video
Optimal Woman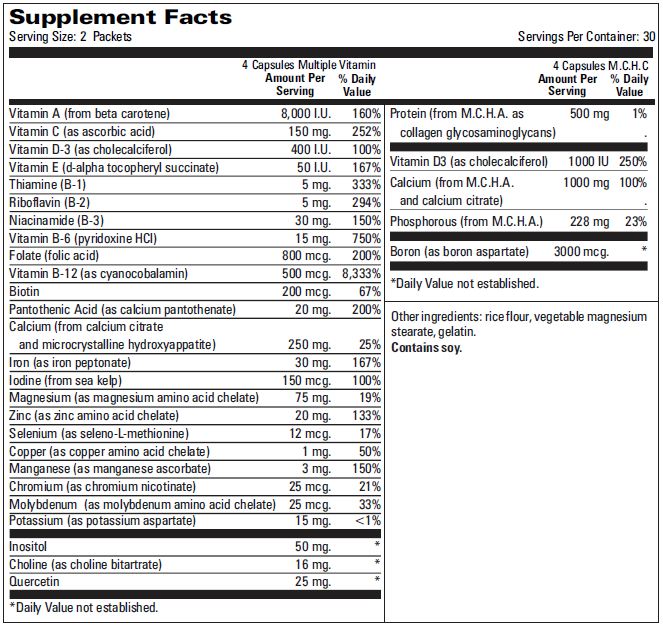 Customer Reviews
---

"Easy!" (Posted by:

Melinda

on 4/7/16)
I love that I can get everything I need all in one convenient packet!

---

"Love these" (Posted by:

Claudia

on 2/9/16)
I just throw a handful of these packets into my purse each week. I'm super forgetful about vitamins but having everything I need in one packet sure helps!

---

"Perfect gifts" (Posted by:

Rihanne

on 9/14/15)
I love getting this around the holidays to give to the ladies in my life. What's a better gift than the gift of health? I've taken these myself for quite a few years now.

---

"Great" (Posted by:

Janessa

on 8/26/15)
I originally received a bottle of Optimal Woman as a gift from my sister. When I ran out I ordered more and I've taken it ever since.

---

"Just lovely." (Posted by:

Marcina

on 8/21/15)
There is no easier way to take vitamins than what East West Essentials puts out there. Friendly staff, super helpful, lightning fast shipping, and excellent results. I could go on all day.

---

"A favorite" (Posted by:

Anne

on 7/28/15)
I've gotten almost every female family member and friend I know to start taking these. Vitamins are so important and these make taking them so easy!

---

"Excellent" (Posted by:

Claudine

on 7/16/15)
I've been taking these for years! They're a staple of my medicine cabinet. I pop a few into my purse each Sunday and I'm ready to go all week. If I forget to take it in the morning, it's there in my purse waiting at work. Plus, I feel great!

---

"Great" (Posted by:

Belinda

on 6/22/15)
Easy, safe, effective, pops right into my purse, natural, and organic. Ding ding ding we have a winner!

---

"So easy" (Posted by:

Tricia

on 6/4/15)
Perfect little packets to pop into my purse and take every day. Couldn't be easier. I wouldn't buy my vitamins anywhere else but East West Essentials.

---

"Best value" (Posted by:

Beth

on 5/8/15)
These vitamins are fantastic! They're so conveniently packaged and easy to take. I've really noticed a difference in my hair and nails. Knock on wood, I haven't gotten sick either!

---

"Best Daily Vitamins Around" (Posted by:

Sara

on 10/22/12)
I love these! Not only are they conveniently packaged (I just grab one of the individual packs and go!), but I really noticed a difference when I started taking them, unlike any other I've tried. I have more energy, I get sick less often... even my hair and nails feel better!