Optimal Probiotic
The Top Ten Occasions to Take Probiotics
During and after taking antibiotics.
As a preventative against food poisoning when traveling.
When struggling with skin problems and allergies.
By anyone having recurrent vaginal or bladder infections.
Any time the body is struggling with yeast.
By menopausal and premenopausal women to reduce osteoporosis risks.
While receiving radiation treatment.
By anyone with high cholesterol problems.
For those with chronic gut and bowel problems.
Patients with arthritis or cancer, under professional guidance.
What it is:
Optimal Probiotic is a high potency, highly viable 100 billion CFU probiotic with documented strains of friendly bacteria. Because low dosage probiotics have limited health benefits, our count and quality is much higher than found in most in the market today. Our careful selection of organisms helps ensure stability and gut permeability. Common challenges associated with probiotic effectiveness are packaging, shelf life and survival of the organisms as they travel through the digestive tract. Optimal Probiotic capsules are packaged in sealed, nitrogen-purged aluminum blister packs to serve as protection from factors proven to compromise their stability such as heat, moisture, and oxygen. Our specially designed, gastro-resistant capsules help support resistance to low pH and slows exposure of "actives" to stomach acid to promotes a more targeted release.
What it does:
An unhealthy gut does not digest foods properly which prevents proper absorption of essential vitamins and minerals. Probiotics keep harmful organisms in check and allow improved overall digestion and nutrient uptake. Signs of intestinal imbalance - meaning "bad" bacteria have taken over - include diarrhea, constipation, skin problems, fatigue, headaches, gas and bloating, and cravings for sugars and carb-heavy foods. Unfriendly gut bacteria can also cause inflammation contributing to the inability to lose weight. It can also contain the "zit-zapping" assistance needed for healthy skin and is known to help heal certain skin disorders like acne, eczema and rosacea.
Daily Schedule:
Take 1 capsule daily.
Support:
All of us at East West Essentials have a passion for wellness and want to help you reach your health goals . We are here to support you throughout your journey. Our wellness specialists have led hundreds of people through our products and programs in and outside of our clinics. Please give us a call if you have any questions.
It is formulated without:
Wheat, gluten, dairy, corn, soy, yeast, artificial colors, sweeteners, or preservatives.
CAUTION:
If you have any major health concerns, check with your healthcare practitioner before use. Keep out of reach of children.
STORAGE:
Keep tightly closed in a clean, dry place. No refrigeration necessary.
TAMPER EVIDENT:
Do not use if safety seal is missing or broken.
East West Essentials products are manufactured in an NSF certified GMP registered facility. GMP refers to the Good Manufacturing Practice regulations as put forth by the US Food and Drug Administration.
Optimal Probiotic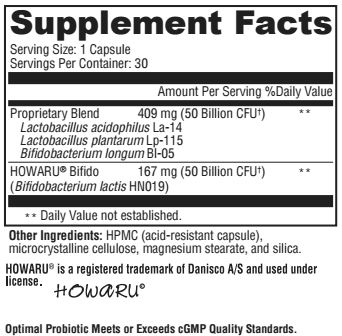 Customer Reviews
---

"Great product" (Posted by:

Clarence

on 4/7/16)
I prefer these probiotics to any others I've taken. They are simple, no after taste, and get the job done. I noticeably feel better when regularly taking these.

---

"Excellent!" (Posted by:

Nats

on 2/9/16)
I always take these when I'm on a course of antibiotics to combat losing my good cells. Usually a round of antibiotics gives me complications but not when I take probiotics with them!

---

"Miracle pills" (Posted by:

Diane

on 9/14/15)
I forgot to re-order these when I ran out last month and consequently got so busy that I stopped taking them for a month. My belly bloat is back, I feel knocked down, my digestion is out of whack. Goodness gracious. These pills are miraculous and I won't forget to order them again!

---

"Excellent" (Posted by:

Wendy

on 8/26/15)
No fishy taste, no weird burps, easy to take, and I feel great!

---

"Wow" (Posted by:

Tricia

on 7/28/15)
I've been taking these daily since March and have not been sick once. Take care of your gut and it'll take care of you!

---

"Helps" (Posted by:

Mike M.

on 7/13/15)
I've needed gastric help and these work. Flattens my stomach and helps with my IBS.

---

"Love" (Posted by:

Macy

on 6/22/15)
I love this! All natural and organic and it works!

---

"Yep." (Posted by:

Peter

on 6/4/15)
All I'm saying is that my husband has been fighting a nasty cold all week and I still haven't caught it. Not an ounce of it. I love you probiotics, I do I do I do!

---

"It helps" (Posted by:

Jake

on 5/11/15)
I thought I was never going to ditch my belly bloat. I figured it was a permanent part of my life. Two weeks after taking this and it looks like I've lost 10 lbs. Bye belly!

---

"I love the change!" (Posted by:

Nick

on 5/8/15)
I've had bloating, gas, and stomach issues for a long time now. Probably years. I kind of just thought it was normal for me and accepted it. But I started taking these probiotics because I had heard how great they are for you, so I figured I'd give it a shot. Wow, I no longer suffer from daily bloating and my jeans are loose on me. I'm not in and out of the bathroom all day with uncomfortable issues. Who knew probiotics cured all of that?!

---

"Noticeable Results" (Posted by:

Mindy

on 5/13/14)
I've struggled with bloating for quite sometime and haven't been able to find anything that really helped to solve the problem. I tried yogurts and all sorts of other supplements but nothing seemed to worked consistently or at all. What pushed me to try this probiotic over others was their claim that it is a pharmaceutical grade probiotic with a targeted release. It was obvious to me that what I was doing before wasn't working so I had to find something more effective. Since trying this probiotic I have actually noticed results that are consistent with what was advertised. Everyone's body is different but as someone who struggled with other products and did well on this probiotic I felt it necessary to share my positive experience with East West Essentials.

---

"This changed my life!" (Posted by:

Emma

on 5/7/14)
I have several food allergies and was recently diagnosed with a candida overgrowth in my gut. I have tried every probiotic on the market and nothing did what this did - in less than ONE WEEK I saw huge changes and felt healthy again! My belly no longer swells, gas is virtually nonexistent, and I am no longer in daily pain. I will be happily taking Optimal Probiotic every day of my life! Thank you, EWE... this supplement healed me!