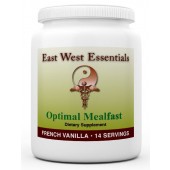 Optimal MealFast
What it is:
Optimal Meal Fast is a nutrient-based mix ideal for vegans, individuals allergic to soy and/or dairy, or those seeking an alternative source of quality protein. Optimal Meal Fast features an all-natural pea and rice protein blend; Aminogen, a plant enzyme that enhances protein digestibility and absorption; and Artinia chitin-glucan, that supports antioxidant systems in the body. This fructose-free formula provides an array of micronutrients as well, including high-potency vitamins C and B12, activated B vitamins, and Albion TRAACS chelated minerals (the real amino aicd chelate system).
What it does:
Protein is required for cell and tissue repair, hormone and enzyme synthesis, and a variety of metabolic functions. It is especially important for maintaining lean body mass during increased physical activity. Protein supplementation has been found to be a determining factor in increasing fat-free mass and exercise-stimulated fat oxidation. Subjects who consumed a significantly higher protein intake experienced a significant increase in fat oxidation and fat-free mass with a significant decrease in fat mass and body fat percentage. Studies have indicated that increased protein intake enhances satiety and supports diminished food intake during subsequent meals.
Benefits:
Easy-to-digest Optimal Meal Fast features a full complement of amino acids, including branched-chain amino acids. The pea protein in Optimal Meal Fast is rich in lysine and arginine. Lysine is of particular interest in weight control because it helps maintain lean body mass. Arginine is essential to weight control for its ability to help increase muscle mass and reduce body fat. Pea protein has the highest lysine concentration (7.2%) of all vegetable-based proteins and the highest arginine concentration (8.7%) among all commercially available proteins.
Daily Schedule:
May be used as a snack or meal replacement.
Support:
All of us at East West Essentials have a passion for wellness and want to help you reach your health goals. We are here to support you throughout your journey. Our wellness specialists have led hundreds of people through our products and programs in and outside of our clinics. Please give us a call if you have any questions.
It is formulated without:
Artificial sweetener, fillers, wheat, gluten, corn, soy, yeast, dairy, colors, or preservatives.
CAUTION:
If you have any major health concerns, check with your healthcare practitioner before use. Do not use if pregnant. Keep out of reach of children.
STORAGE:
Keep tightly closed in a clean, dry place. Contents sold by weight, not volume. Some settling may occur during shipping and handling.
TAMPER EVIDENT:
Do not use if safety seal is missing or broken.
East West Essentials products are manufactured in an NSF certified GMP registered facility. GMP refers to the Good Manufacturing Practice regulations as put forth by the US Food and Drug Administration.
Optimal MealFast
Optimal MealFast Dutch Chocolate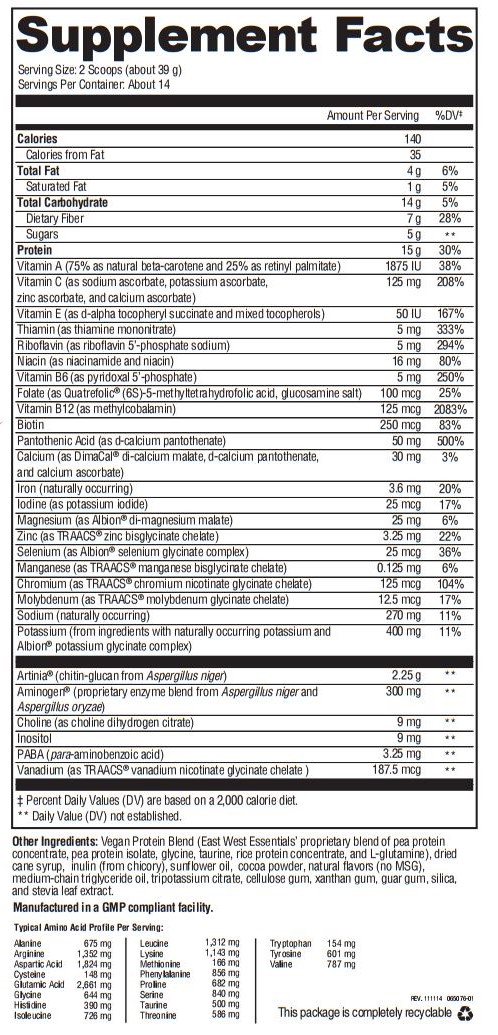 Optimal MealFast French Vanilla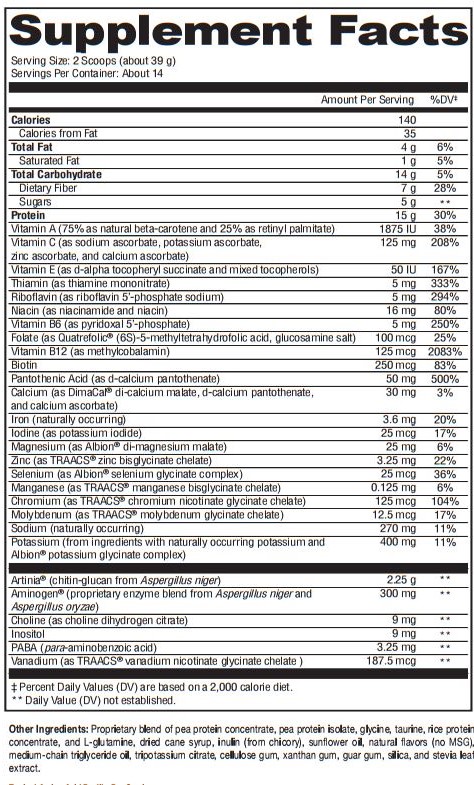 Customer Reviews
---

"Yum yum yum!" (Posted by:

Emma

on 4/20/16)
I have this every day for lunch. Partly because I want to eat healthier and partly because I want to save money and time during my lunch break at work. I also got the shaker cup too. I've noticed that my abdominal region has noticeably shrunk and I have a more defined hourglass figure. I also no longer have a midday crash. Both flavors are good. I like to mix fruit or a crystal light no sugar packet into the vanilla flavor. This simplifies my workday and busy weekends too!

---

"Delicious" (Posted by:

Iva

on 4/7/16)
I initially got the chocolate mealfast as a sample and liked it so much that I ordered some. When I got my order they had included a sample of the vanilla flavor. Well what do you know, it was just as delicious and I ended up ordering that as well. I drink these as snacks 1-2 times a day with my shaker cup. They're divine!

---

"Good!" (Posted by:

Stara

on 3/22/16)
I've tried slimfast before but I've never had good results because I never end up staying full from just a liquid meal. This actually keeps me satiated!

---

"Delish!" (Posted by:

Jenny

on 3/22/16)
Absolutely love the protein content in this! It's filling and keeps me satisfied for a long time so I can avoid the snacks!

---

"Awesome I love!" (Posted by:

Raghav

on 12/11/15)
Awesome! I kinda do my own shakes with this. They give me sooooo much energy, keep me full and help me build muscles i can't get enough of them :D .. i am sure it will help me obtain a beach body in no time!

---

"Great!" (Posted by:

Paige

on 10/7/15)
This is my absolute go-to snack now! It's super easy to make at work and saves me time on my short breaks. Totally filling too!

---

"Yum yum yum" (Posted by:

Ellen

on 9/18/15)
I looooove the vanilla mealfast! It's sooo tasty it doesn't feel like I'm actually drinking something good for me! It almost tastes like a milkshake. What a treat!

---

"Tried and true!" (Posted by:

Charlemagne

on 9/14/15)
I used to be an athlete but have since stopped playing and gained 5 lbs (I'm 5'2!!). When I called East West Essentials they recommended I try this Optimal Mealfast for breakfast or as a replacement for one meal a day. I've only been doing it for three days now and I've lost 3 lbs!! Yay!!! The vanilla is SO SO SO good!

---

"Tasty!" (Posted by:

Charlee

on 8/21/15)
I usually do the chocolate flavor optimal cleanse but I decided to check out the vanilla for the mealfast. It is GREAT! I love having it mixed with some fresh fruit or even just on it's own!

---

"Very very vanilla" (Posted by:

Drew

on 8/17/15)
The vanilla mealfast is so darn good! It tastes really creamy and it's like having dessert, only good for you!

---

"Love it!" (Posted by:

Nancy

on 8/17/15)
This MealFast is great! I keep the bottle at work and make myself a shake or two every day. It's soooo delicious and really curbs my appetite so I'm not reaching for junk foods!

---

"So great!" (Posted by:

Ashley

on 7/28/15)
I absolutely love the MealFast! I'm a big fan of the cleanse but obviously you can't be on that forever. I'm awful at planning meals and taking food to work, this makes it so easy for me. I have a couple of these while I'm working to make sure I keep my metabolism burning and my body fueled. It's delicious and unlike stuff like Slimfast I know I'm staying healthy and giving my body the good stuff!