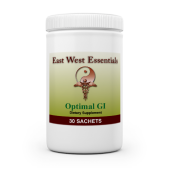 Optimal GI
What it is:
East West Essentials Optimal GI provides supplementation of probiotic strains of bacteria, the non-pathogenic yeast, Saccharomyces boulardii, immunoglobulins, and the prebiotic, arabinogalactan. It is enhanced by the unique proprietary combination of these ingredients with a traditional probiotic (good gut bacteria).
What it does:
East West Essentials' Optimal GI is the ideal solution for individuals with a variety of gut-related issues that cause inflammation, discomfort, constipation, diarrhea, gas and bloating. The free-flowing powdered blend is conveniently packaged into single dose sachets.
Daily Schedule:
Take 1 sachet daily.
Support:
All of us at East West Essentials have a passion for wellness and want to help you reach your health goals. We are here to support you throughout your journey. Our wellness specialists have led hundreds of people through our products and programs in and outside of our clinics. Please give us a call if you have any questions.
It is formulated without:
Wheat, gluten, corn, soy, yeast, artificial colors, sweeteners, or preservatives.
CAUTION:
If you have any major health concerns, check with your healthcare practitioner before use. Keep out of reach of children.
STORAGE:
Keep tightly closed in a clean, dry place. No refrigeration necessary.
TAMPER EVIDENT:
Do not use if safety seal is missing or broken.
East West Essentials products are manufactured in an NSF certified GMP registered facility. GMP refers to the Good Manufacturing Practice regulations as put forth by the US Food and Drug Administration.
Optimal GI
Customer Reviews
---

"Love this product!" (Posted by:

Greta

on 4/18/16)
Never been able to budge the last bit of weight in my abdominal region no matter how hard I dieted or exercised. I've been drinking Optimal GI for a few weeks and am noticeably smaller and more toned in that area. I love how easy this is to take!

---

"So easy!" (Posted by:

Elaine

on 8/21/15)
This could not be any easier. I carry the packets with me in my purse and pop them into my drink throughout the day. They're tasteless and blend well into hot and cold drinks. After a couple weeks of consistently taking this I felt 10 pounds lighter in my gut. What a blessing.

---

"All the difference" (Posted by:

Meghan

on 7/16/15)
Doctors have never been able to pinpoint if it's celiac, gut issues, or something else. So I was relieved when I started taking these and felt much better. What an easy fix! Thanks EWE!

---

"Yes!" (Posted by:

Nakker

on 5/26/15)
I've struggled with gut and bowel issues for years. No real cause for it that I've ever found, so no real solution either. I tried taking this and it helps so much! I have less gas and bloating and I'm able to use the restroom regularly now.

---

"Great taste" (Posted by:

Christina

on 2/26/14)
I love using the Optimal GI. The small sachets are really easy to toss in my purse when I'm on the go and I actually like the taste! I feel great and would recommend to anyone!