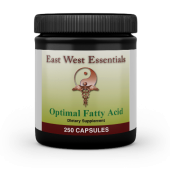 Optimal Fatty Acid Blend
What it is:
East West Essentials Optimal Fatty Acid Blend plays a vital role in almost every bodily function. Our Fatty Acids give you the support needed to protect your heart, support healthy cholesterol levels, repair cell membranes, and helps burn body fat. These essential fatty acids cannot be produced by the body, so they need to be ingested. Since the Optimal Fatty Acid Blend is plant based you don't have to worry about any toxins or rancidity. These oils contain no pesticides and are 100% certified organic.
What it does:
This perfectly balanced blend of fatty acids have a 1:1 ratio of Omega 3 to Omega 6, and are plant-based to promote the conversion of omega 6 fatty acids to GLA, therefore reducing a pooling of arachidonic acid. Your body also converts a portion of these oils into the levels of EPA and DHA that are essential for your health. It also contains added omega 9 fatty acids, which are nonessential yet compensate for a deficiency in today's diet.
Benefits:
Essential fatty acids are used by every cell in the body and healthy cells make healthy people! The Optimal Fatty Acid Blend provides a synergy of essential omega fatty acids critical for fat metabolism and lean muscle mass. It can boost heart health, lower triglycerides, support healthy blood sugar levels, and promote vitality. Our Optimal Fatty Acid acts as a natural anti-inflammatory, which can help fight off the premature aging of skin and promote overall skin elasticity. Additionally it aids in the prevention of constipation, arthritis, depression, cancer, and cardiovascular disease.
Daily Schedule:
Take 3 capsules in the morning and 3 capsules in the afternoon or evening. You may take up to 9 capsules per day.
Support:
All of us at East West Essentials have a passion for wellness and want to help you reach your health goals. We are here to support you throughout your journey. Our wellness specialists have led hundreds of people through our products and programs in and outside of our clinics. Please give us a call if you have any questions.
It is formulated without:
Fish, harmful additives, preservatives, fillers, bleaching agents or hexane.
CAUTION:
If you have any major health concerns, check with your healthcare practitioner before use. Keep out of reach of children.
STORAGE:
Keep tightly closed in a clean, dry place. Do not freeze
TAMPER EVIDENT:
Do not use if safety seal is missing or broken.
East West Essentials products are manufactured in an NSF certified GMP registered facility. GMP refers to the Good Manufacturing Practice regulations as put forth by the US Food and Drug Administration.
Optimal Fatty Acid Blend
Optimal Fatty Acid Blend for men product video
Optimal Fatty Acid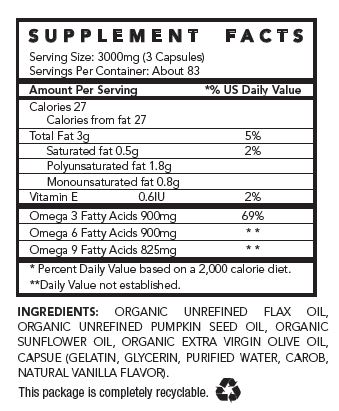 Customer Reviews
---

"Love Fatty Acids!" (Posted by:

Nimba

on 4/20/16)
Everything I read everywhere nowadays says make sure you get omega fatty acids into your diet. Fine, I said, I'll do it! My skin looks and feels much healthier, I really love the effect this supplement has!

---

"Gorgeous!" (Posted by:

Ana

on 4/7/16)
This gives me such gorgeous skin! Zaps out all of my oil and helps to tone my complexion.

---

"Love!" (Posted by:

Jill

on 3/22/16)
Better skin than I think I've ever had. Helps remove the little wrinkles and cellulite. Curbs acne. I feel like my face is less oily.

---

"Greatness" (Posted by:

Jordanne

on 11/22/15)
Totally love these. Eats away cellulite!

---

"I love it" (Posted by:

Veronica

on 10/21/15)
I don't know if it's just me but my skin has never looked better! It's smooth, it's moisturized, it's evenly toned. I've struggled with adult acne for ages and even that's calmed down and almost gone. My cellulite is disappearing too!

---

"So wonderful" (Posted by:

Leslie C.

on 9/16/15)
This product has been a staple in my life for four years now. I swear by it and I give it out as a gift to everyone I know. Great skin and fat burning could not be any easier.

---

"So great" (Posted by:

Janessa

on 8/26/15)
I've never had great skin and I've never really had a solution before taking these. Now my skin looks and feels healthier, I have 99% less breakouts and blemishes, and I even seem to have some kind of glow to my face. It's fantastic!

---

"Pretty skin" (Posted by:

Nicolette

on 8/21/15)
My skin has never looked better than when I've consistently taken these. Soft, supple, blemish free, radiant even. No side effects from these, worth every cent. Thanks EWE!

---

"Tried and true" (Posted by:

Ledei

on 8/3/15)
I've been taking these for a couple of years now. I swear by them, they're my favorite. Heather and everyone at East West Essentials is so helpful and so timely in shipping their products to me. I just can't say enough good things about them!

---

"My favorite" (Posted by:

Bästai

on 7/20/15)
I've taken these for years. Super easy and super good for me.

---

"Marvelous" (Posted by:

Ricky

on 7/17/15)
I'm in love with this product! My skin has never looked better! You have done a marvelous, fantastic job and I'll be recommending these to all of my friends!

---

"Superb" (Posted by:

Gris

on 7/9/15)
Woah! I'm really digging these Fatty Acids. They're so simple, yet effective. A lot of times it's challenging to get that "perfect balance" between usability and results. I must say that you've done a awesome job with this. In addition, the shipping is very quick. Superb product!

---

"Here here here" (Posted by:

Besle

on 7/2/15)
Don't waste your time trying anything else. This works! AND it's healthy and good for you! Trust me, I've been to GNC and all the rest. What a waste! Call up East West Essentials and take care of you!

---

"So good" (Posted by:

Dameene

on 6/26/15)
This is stellar! Fantastic!

---

"Super" (Posted by:

Max

on 6/25/15)
My skin looks and feels great!

---

"The ONE!" (Posted by:

Seilckey

on 6/22/15)
There are so many options out there and this is the one that works!

---

"Love it" (Posted by:

Gene

on 6/9/15)
Appreciate the efforts put forth to create such an amazing product. No fish oil, no bad taste and easy to take. Best fatty acid I've found thus far!

---

"Excited" (Posted by:

Bren

on 6/6/15)
I'm so excited that there's no fish oil and nasty taste in these !!! I wish I had found these years ago !!!

---

"Love" (Posted by:

Chelz

on 6/4/15)
I take 9 of these every day. My core has slimmed down dramatically and I feel more accomplished at the gym. I sweat more and get more done. I love these!

---

"Helpful" (Posted by:

Jenn

on 5/19/15)
I feel like taking this has helped to slim me down. Sure, I'm working out and trying to eat right. But these seem to work in conjunction with those efforts. There's parts of me slimming that aren't from the gym. My waist is more defined as are my abdominal muscles.

---

"Ramped up" (Posted by:

Jennison

on 5/18/15)
These really get my metabolism going! I'm hitting the gym, eating as healthy as I can, and taking these I feel like I'm actually burning off what I eat. I'm slimming down slowly but surely!

---

"Helper Pills" (Posted by:

Levi

on 5/13/15)
I wasn't noticing much of a change when I started hitting the gym but I added these to my routine and already I'm slimming way down.

---

"Firmer" (Posted by:

Ni-hai

on 5/12/15)
My skin is so much firmer and smoother after taking these. I notice the changes even more because I'm also working out so I'm slimming down and my skin is toning up.

---

"Yay!" (Posted by:

Mo

on 5/11/15)
I've been struggling to get into a good workout routine and lose pounds because I'm borderline hypothyroid. I started taking this about five weeks ago and I'm down 6 pounds but more noticeably my waist has slimmed as have my legs. It gives me the motivation to keep going for more results! I love this stuff!

---

"Take my money!" (Posted by:

Talqua

on 5/8/15)
This ramped up my metabolism and energy. They're some magic pills! I love them!

---

"So So Happy!" (Posted by:

Miley

on 5/6/15)
I was skeptical when I started taking this because it's very hard for me to lose weight. But I've been on this for three weeks and I'm already seeing great results! I'm belly is flattening out and my waist is shrinking. This is such a great supplement in conjunction with working out!

---

"I'm a believer" (Posted by:

Charlie

on 5/5/15)
Three months into taking these and I'm down 14 pounds. I'm a believer!

---

"My favorite product" (Posted by:

Michelle

on 7/23/14)
I have used this product for years. Each bottle lasts 45 days which took me a while to figure out. HA.. (I take 6 caps per day) It really works for cellulite! Made such a visible difference I am afraid to stop using it. Big fan of the Optimal Fatty Acid.

---

"True value" (Posted by:

Cecilia

on 2/26/14)
My husband and I have used several of your products for the past 4-5 years. The quality is outstanding and the pricing very competitive. We particularly like the Fatty Acid Blend. We appreciate that you are out there.

---

"Great!!!!!!!!!!" (Posted by:

Eilat!!!!!!!!!!!!!

on 2/25/14)
The Optimal Fatty Acid helped me lose the few extra pounds I wanted to loss before going away on a trip before my sisters wedding. I have been working out but still could not loss those extra pound like I wanted read about this product at health magazine tried it and I am so happy I did.