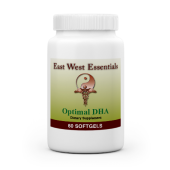 Optimal DHA
What it is:
Docosahexaenoic Acid (DHA), one of the most abundant components of the human brain, is vital for optimal brain function and protection. A nutritionally complete diet should include this important fatty acid to maintain proper brain, eye, heart, and immune function.
What it does:
Optimal DHA provides a patented laboratory-produced vegetarian source of DHA. This unique algae-derived product contains no artificial colors or preservatives. A nutritionally complete diet should include this important fatty acid to maintain proper brain, eye, heart, and immune function.
Daily Schedule:
Take 1 vegetarian softgel daily with a meal or as directed by your healthcare practitioner.
Support:
All of us at East West Essentials have a passion for wellness and want to help you reach your health goals. We are here to support you throughout your journey. Our wellness specialists have led hundreds of people through our products and programs in and outside of our clinics. Please give us a call if you have any questions.
It is formulated without:
Fish, harmful additives, preservatives, fillers, bleaching agents or hexane.
CAUTION:
If you have any major health concerns, check with your healthcare practitioner before use. Keep out of reach of children.
STORAGE:
Keep tightly closed in a clean, dry place. Do not freeze.
TAMPER EVIDENT:
Do not use if safety seal is missing or broken.
East West Essentials products are manufactured in an NSF certified GMP registered facility. GMP refers to the Good Manufacturing Practice regulations as put forth by the US Food and Drug Administration.
Optimal DHA
Optimal DHA product video
Optimal DHA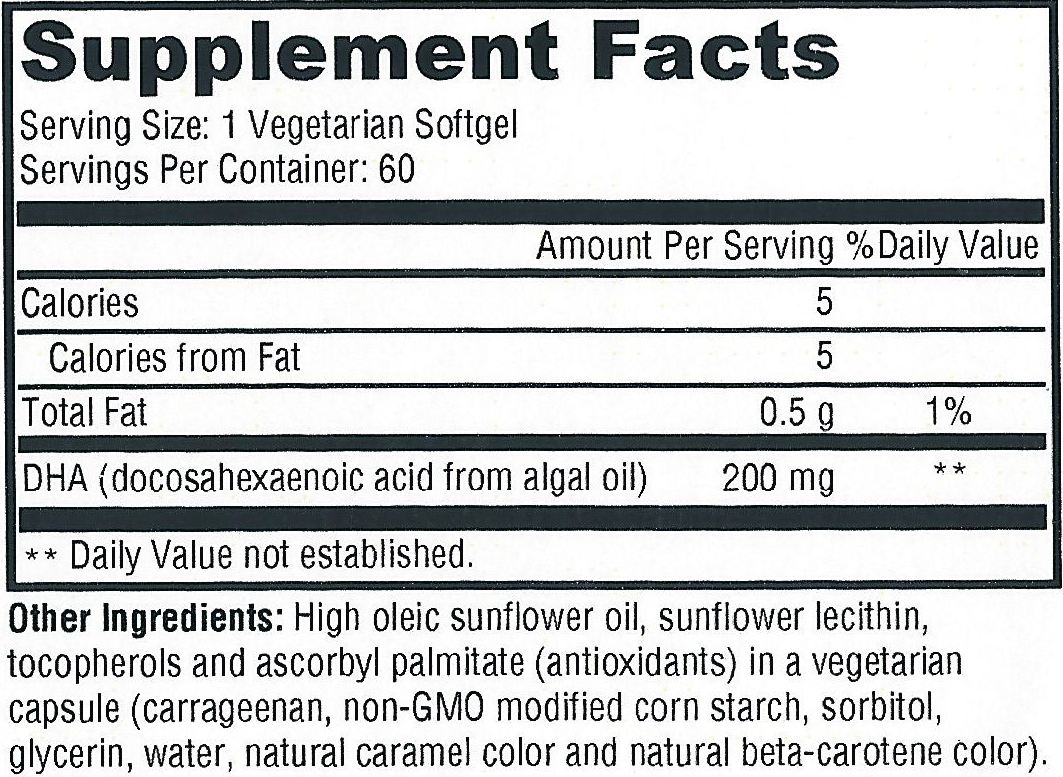 Customer Reviews
---

"Well.." (Posted by:

Nimba

on 4/20/16)
I was taking these in addition to the Optimal Prenatal vitamins but now that the optimal prenatal includes DHA I save $50!

---

"Great!" (Posted by:

Nancy

on 4/7/16)
Just what my doctor recommended! Great immune booster :)

---

"Super important" (Posted by:

Natasha

on 9/14/15)
DHA is so important to take when working in a office, aka a hive of germs. But it's even more important in the fall and winter when everyone everywhere is coughing. Trust me!

---

"Good stuff" (Posted by:

Nitrine

on 8/21/15)
I'll take any and everything to help boost my low immune system. Thanks for the recommendation EWE!

---

"Good" (Posted by:

Tricia

on 8/3/15)
To be honest I'm not even really sure what DHA is but I read an article that mentioned most people are deficient in it. As a big fan of East West Essentials when I saw this product on here I figured I'd give it a shot. I feel like I think clearer now.

---

"Great" (Posted by:

Nicol

on 6/22/15)
All natural, organic, made in the USA, and family owned, can't say that about many vitamin companies. I wouldn't trust anyone else!

---

"Thanks!" (Posted by:

Chaz

on 6/4/15)
I'm a vegetarian and it's hard to make sure I get all of the right vitamins and nutrients in my diet. Thanks for making a vegetarian source of DHA!

---

"Helps" (Posted by:

Jake

on 5/26/15)
I feel like my memory is sharper and more in focus now. I'm able to concentrate and work harder at my job now. I have ADD and my doctor recommended upping my DHA intake, so far so good!

---

"Feeling good" (Posted by:

Mack

on 5/7/15)
I feel more mentally awake and aware. My memory feels stronger and I haven't gotten sick since I've been taking this (6 months now). Thumbs up!