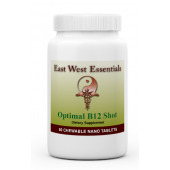 Optimal B12 Shot
What it is:
Our Optimal B12 Shot is a great tasting, rapid sublingual delivery (chew and let absorb in mouth) of Methylcobalamin Vitamin B12. Methylcobalamin, the form of B12 active in the body, appears to be better absorbed and stored in tissues in comparison to cyanocobalamin B12.
What it does:
B12 encourage the body to convert carbohydrates into energy which can increase the metabolism. It also can aid in cellular energy production which helps relieve fatigue. Optimal B12 Shot helps replenish deficient levels of B12 in the body. Vitamin B12 has recently been recognized as a common deficiency in the U.S. A deficiency of B12 can cause anemia, mood swings, anxiety, dementia, and nerve damage.
What it is formulated without:
Wheat, gluten, corn, protein, yeast, soy, animal or dairy products, fish, shellfish, peanuts, tree nuts, egg, artificial colors, artificial sweeteners, or preservatives.
Daily Schedule:
One sublingual tablet daily.
Support:
All of us at East West Essentials have a passion for wellness and want to help you reach your health goals. We are here to support you throughout your journey. Our wellness specialists have led hundreds of people through our products and programs in and outside of our clinics. Please give us a call if you have any questions.
CAUTION:
Keep out of reach of children.
STORAGE:
Keep tightly closed in a clean, dry place.
TAMPER EVIDENT:
Do not use if safety seal is missing or broken.
East West Essentials products are manufactured in an NSF certified GMP registered facility. GMP refers to the Good Manufacturing Practice regulations as put forth by the US Food and Drug Administration.
Optimal B12 Shot
Optimal B12 Shot product video
Optimal B12 Shot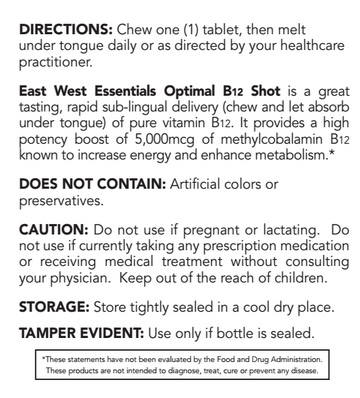 Supplement Facts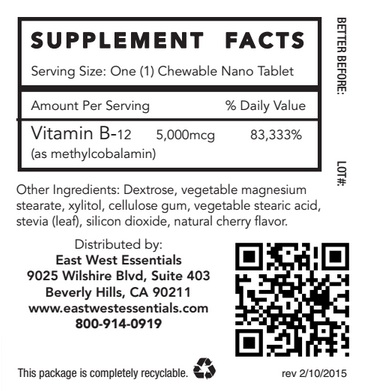 Customer Reviews
---

"Terrific" (Posted by:

Erik

on 10/7/15)
I love taking the B12 pills. They really help regulate my energy and have me waking up feeling refreshed!

---

"Wake up!" (Posted by:

Cynthia

on 7/28/15)
These are my "Go Go Girl" pills. I take one in the morning and I'm amped up and ready to take on the day!

---

"Wow" (Posted by:

Landon D.

on 7/13/15)
What a lifesaver. I'm recently retired and struggling with fatigue. But not anymore!

---

"Back on track with the B-12!" (Posted by:

Momma Brenda

on 2/28/15)
Im a very busy mother of a new baby and trying to work - also had difficult delivery so FATIGUED!! Tried the B-12 and I'm back on track - feeling like I can handle it all!!!
THANKS

---

"Lifesaving" (Posted by:

Maggie

on 2/28/15)
My Dr. recommended b-12 after i went through chemo - (does a number on your red blood cells) and love the easy way your b-12 goes down - also had nausea so lots of BIG chalky pill were not possible - these mini ones are a lifesaver.

---

"Feeling better with B-12" (Posted by:

Stan

on 2/28/15)
I have a history of depression and read vit b's (12) are good for - began taking and honestly, feel 100% better. Depression is a bummer

---

"Jump starting B-12 shot " (Posted by:

Fredrica

on 2/28/15)
I was introduced to this product from my nutritionist. I was on a strict diet and had plateaued and decided to start taking this B12 Shot. It is easy to take because it goes under your tongue and it tastes really good. It really was the thing I needed to jump start my weight loss again!