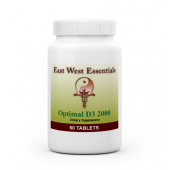 Optimal D3 5000
What it is:
Vitamin D3, the ideal form of vitamin D, is produced by the skin when exposed to sunlight. Although it is produced by the body, many factors such as pollution and weather limit the amount of vitamin D our bodies produce. Optimal D3 5000 helps to provide the premium form of vitamin D that supports healthy levels of calcium in the body. Research also suggests D3 improves immune, neurological, musculoskeletal, cellular, and cardiovascular health.
What it does:
D3 is the ideal form of vitamin D that is synthesized in the body to help regulate metabolism of vitamin D and sugars. Vitamin D is also needed in order for the body to be able to absorb calcium, a vital component in bone growth.
Benefits:
Optimal D3 5000 supports a healthy immune system, strengthens bones and teeth, and has been shown to help prevent high blood pressure, osteporosis, and cancer. But vitamin D is also a key ingredient for beautiful looking skin. Skin, like all organs, needs vital nutrients to function properly. D3 helps to replenish some of those essential nutrients to the body for healthier, better looking skin.
Daily Schedule:
Take 1 softgel daily
Support:
All of us at East West Essentials have a passion for wellness and want to help you reach your health goals. We are here to support you throughout your journey. Our wellness specialists have led hundreds of people through our products and programs in and outside of our clinics. Please give us a call if you have any questions.
It is formulated without:
Wheat, gluten, corn, yeast, soy, dairy products, fish, shellfish, peanuts, tree nuts, egg, artificial colors, artificial sweeteners, or preservatives.
CAUTION:
If you have any major health concerns, check with your healthcare practitioner before use. Keep out of reach of children.
STORAGE:
Keep tightly closed in a clean, dry place. Do not freeze
TAMPER EVIDENT:
Do not use if safety seal is missing or broken.
East West Essentials products are manufactured in an NSF certified GMP registered facility. GMP refers to the Good Manufacturing Practice regulations as put forth by the US Food and Drug Administration.
Optimal D3 5000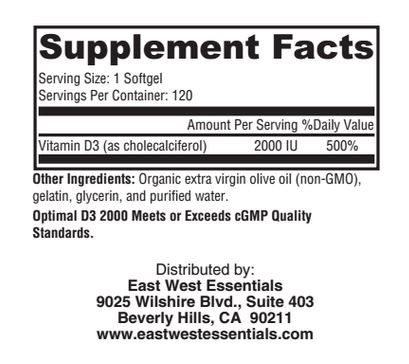 Customer Reviews
---

"Great!" (Posted by:

Melinda

on 4/7/16)
I saw a special on Doctor Oz about people being low on Vitamin D and how even if you get alot of sun exposure it still may not be enough/your body may not process it correctly. I'm glad I was able to find this on East West Essentials because I love their products. This is so helpful!

---

"I love this product!" (Posted by:

Natasha

on 10/7/15)
My doctor recommended I get more D3 in my system so I started taking these. He wasn't kidding, I needed this! Apparently loads of people are running low on Vitamin D, who knew? I feel great!

---

"Just What I Need!" (Posted by:

Nickolas

on 8/3/15)
As a computer programmer and owner of my own company, I rarely see sunlight. I'm basically a vampire. But getting Vitamin D is very important to health and when my doctor told me I'm most definitely not getting enough, I started taking these. They're just what I need!

---

"Good stuff" (Posted by:

Mike

on 6/22/15)
Healthy, safe, effective form of vitamin D. Great!

---

"Good results" (Posted by:

Dan

on 6/4/15)
I recently got off anti depressants but wanted to make sure I wouldn't crash. I added these to my daily routine and so far I'm doing great!

---

"Great" (Posted by:

Felicia

on 5/19/15)
My doctor suggested I get more Vitamin D in my life and I wanted something really good for me, not just a standard over the counter vitamin. I love East West Essentials products and trust their ingredients and know their results!

---

"Stronger nails!" (Posted by:

Nicki

on 5/7/15)
I've struggled with my nails for years. I've always had a nervous habit of picking and biting them. But even once giving up all of that my nails are just a wreck and hardly grow. So I started taking this and I've noticed that they grow stronger and look great! And because they look so good I've given up biting them!