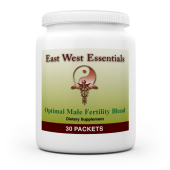 Optimal Male Fertility Blend
What it is:
Optimal Male Fertility Blend, overall support for Male Fertility. Provides the nutrients needed to support men's overall reproductive health.
What it does:
Approximately 40% of fertility issues are male related. The Optimal Male Fertility Kit has been successfully used in our clinic over the years to enhance sperm formation and maturation. Additionally, it can increase blood flow and enhance vitality and libido.
Benefits:
Recommended and prescribed by leading Fertility Specialists, Optimal Male Fertility Blend provides men with unique research- proven amino acids, minerals, herbs and antioxidants to protect sperm from free radical damage as well as additional nutrients for enhancing sperm formation and maturation. These are combined to specifically enhance sperm motility, count, speed and concentration. Optimal Male Fertility Blend can also increase blood flow and enhance vitality and libido.
Daily Schedule:
One packet daily. Because it takes approximately 72 days to generate new sperm doctors recommend a minimum of three months' supply of the Optimal Male Fertility Blend.
Support:
All of us at East West Essentials have a passion for wellness and want to help you reach your goal of creating a family. We are here to support you throughout your journey. Our wellness specialists have led hundreds of people through our products and programs, leading to successful pregnancies, in and outside of our clinics.
It is formulated without:
Artificial sweetener, fillers, wheat, gluten, yeast, colors, or preservatives.
CAUTION:
If you have any major health concerns, check with your healthcare practitioner before use. Keep out of reach of children.
STORAGE:
Keep tightly closed in a clean, dry place.
TAMPER EVIDENT:
Do not use if safety seal is missing or broken.













East West Essentials products are manufactured in an NSF certified GMP registered facility. GMP refers to the Good Manufacturing Practice regulations as put forth by the US Food and Drug Administration.
Optimal Male Fertility Blend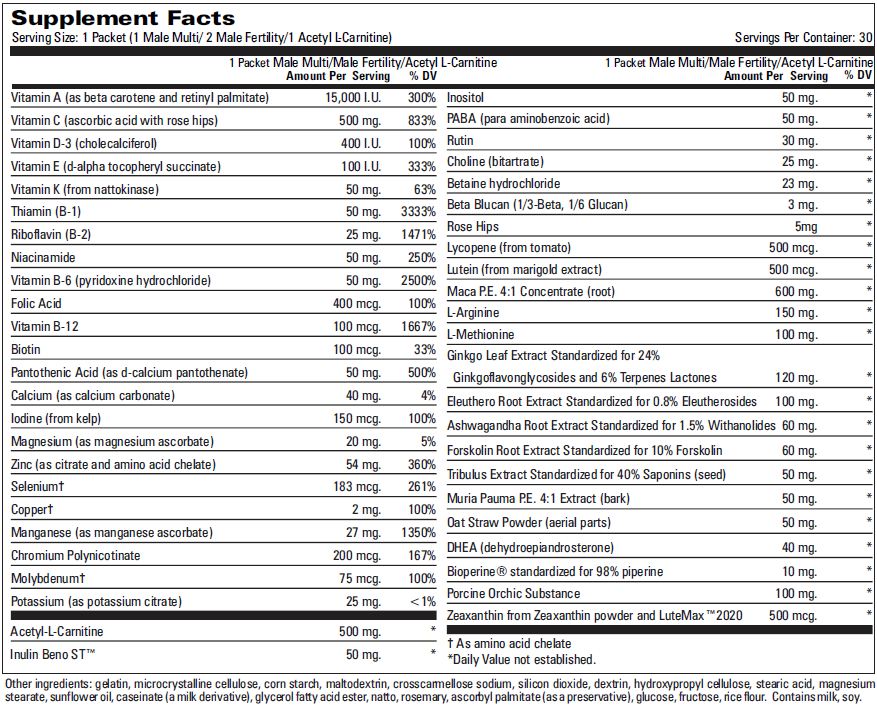 Customer Reviews
---

"Great" (Posted by:

Jager

on 4/7/16)
Doctor recommended and it was easy to get advice from EWE about it. Glad I found it and took it.

---

"Yep yep" (Posted by:

Jordan

on 1/24/16)
So easy to take and I'd like to think that it definitely did help, my doctor noticed changes!

---

"Marvelous" (Posted by:

Prixe

on 8/26/15)
Thanks for this marvelous product! I seriously enjoy taking it, you're a great help. I have bookmarked your site and will come back for my refills. I want to thank you for the great product, have a nice afternoon!

---

"The physician will see you now!" (Posted by:

Dr. Cameron

on 8/4/15)
I'm a fertility specialist and I recommend this Optimal Male Fertility Blend to my patients.

---

"Excellent" (Posted by:

Gray

on 8/3/15)
My recommended these to me and I feel loads better!

---

"Remarkable" (Posted by:

Nathan Skulnik (writer: "Miles", The Miles Davis biopic; "AC/DC", the story of Nicola Tesla and Thomas Edison)

on 7/9/15)
Writing all day takes a mental and physical toll, I find taking the male multivitamin, male energy and stress blend keeps me mentally sharp with the energy to push through to the next page…

---

"Great" (Posted by:

Silve

on 7/9/15)
My wife kept trying to persuade me to move to try this out. I have always disliked the idea of vitamins because why. But I tried it nonetheless and I can't go back. Thanks!

---

"Worth a shot" (Posted by:

Bronzie

on 7/4/15)
My wife made me try this and it's made a huge difference!

---

"Love it" (Posted by:

Noir

on 6/25/15)
I didn't know what to expect but I feel invigorated and energized. This is great!

---

"Thanks" (Posted by:

Davies

on 6/17/15)
Not an easy matter to discuss but the ladies of East West Essentials were a knowledgeable and respectful lot. Thank you ladies!

---

"Thank you" (Posted by:

Fermen

on 5/28/15)
Thanks, I have been seeking for info about this topic for ages and yours is the best I have discovered so far.

---

"Believer" (Posted by:

Gupta

on 5/27/15)
You managed to make a believe out of me with this product! Thank you!

---

"Fingers crossed" (Posted by:

Nechai

on 5/13/15)
Wife suggested taking this as we try for a baby. It's upped my libido, stamina, and hopefully my swimmers. Fingers crossed.

---

"Great!" (Posted by:

Chance

on 5/11/15)
These really help with my sex drive and stamina!

---

"Can't complain" (Posted by:

Alan

on 5/7/15)
I'm not into supplements, vitamins, any of that stuff. But my wife got me this to try and I'm going to stick with it. I've got better performance and drive now. Can't complain about that.

---

"Great product." (Posted by:

David C

on 2/4/15)
Approaching 40, I began to realize that my energy was not what it once was. So at the advice of a friend, I began using the Optimal Male Fertility and a month later, I truly cannot believe the results. My energy is through the roof and increasing everyday. My only regret is they didn't tell me about this sooner!