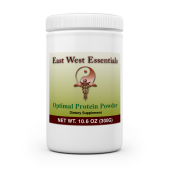 Optimal Protein Powder
What it is:
Optimal Protein Powder is an all natural, low glycemic protein powder with 16 grams of protein and 1 carbohydrate gram. It is a patented and standardized source of immunoglobulins in a nutritionally advanced New Zealand whey protein concentrate. It is the ultimate in protein powders.
What it does:
Sixty grams of protein daily are recommended for fertility and pregnant women. Many busy women may find it difficult to add an extra increase of protein to their daily routine. Therefore, Optimal Protein Powders is a pregnancy safe, quick and clean source of protein. Adequate amounts of protein are essential for proper tissue and brain development of your baby. Optimal Protein Powder clinically proven to boost the immune system, improve intestinal health and fight pathogens.
Daily Schedule:
Have 1-2 Optimal Protein powder shakes per day to increase your protein intake for fertility and pregnancy. If you are ready to follow a detailed program please consider our 5 Day Optimal Fat Blast or 7 Foods for 7 Days.
Support:
All of us at East West Essentials have a passion for wellness and want to help you reach your goal of creating a family. We are here to support you throughout your journey. Our wellness specialists have led hundreds of people through our products and programs in and outside of our clinics. Please give us a call if you have any questions.
It is formulated without:
Artificial sweetener, fillers, wheat, gluten, corn, soy, yeast, colors, or preservatives.
CAUTION:
If you have any major health concerns, check with your healthcare practitioner before use. Do not use if pregnant. Keep out of reach of children.
STORAGE:
Keep tightly closed in a clean, dry place. Contents sold by weight, not volume. Some settling may occur during shipping and handling.
TAMPER EVIDENT:
Do not use if safety seal is missing or broken.
East West Essentials products are manufactured in an NSF certified GMP registered facility. GMP refers to the Good Manufacturing Practice regulations as put forth by the US Food and Drug Administration.
Optimal Protein Powder
Optimal Protein Powder product video
Optimal Protein Powder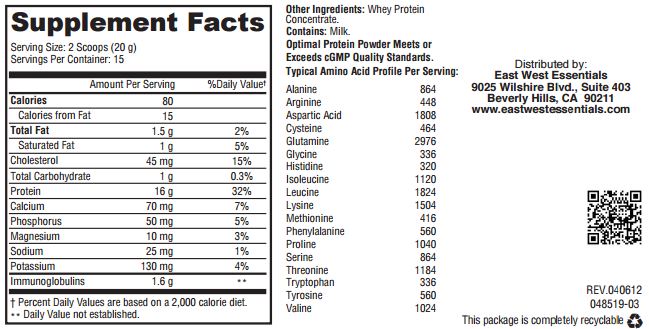 Customer Reviews
---

"The best!" (Posted by:

Nats

on 2/9/16)
I've had the hardest time finding a protein powder compatible with my whey allergy. This stuff is great! No whey allergens!

---

"Couldn't be simpler" (Posted by:

Loubs

on 1/27/16)
I add this to my grandmother's soups to help get her the amount of protein she needs!

---

"Well done" (Posted by:

Fiticia

on 6/24/15)
This is the most effective protein powder I've tried. And I've tried them all. Well done.

---

"Wow" (Posted by:

Jane

on 6/22/15)
I stay away from stuff like this normally because I'm worried about additives and chemicals. But East West Essentials is all natural and organic, I trust them and I feel great!

---

"Great!" (Posted by:

Fantacia

on 6/6/15)
There's so many protein powders in the market but I know with this one it's the best nutrition and goodness I can put into my body. I wouldn't use anything else!