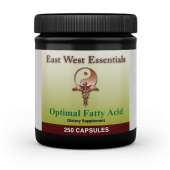 Optimal Fatty Acid Blend
What it is:
Proper nutrition is a key way to fight infertility in women and East West Essentials' Fatty Acid Blend is an essential component in maintaining health and wellness and a strong reproductive system. When used to support fertility, Optimal Fatty Acid Blend provides the key building blocks for crucial hormone production and supports the process of ovulation. Since the Optimal Fatty Acid Blend is plant based you don't have to worry about toxins or rancidity. These oils contain no pesticides and are 100% certified organic.
What it does:
This perfectly balanced blend of fatty acids have a 1:1 ratio of omega 3 to omega 6, and are plant-based to promote the conversion of omega 6 fatty acids to GLA, therefore reducing a pooling of arachidonic acid. Our plant-based fatty acids allow you to receive the benefits of these high quality oils without the concern of mercury toxicity. Your body also converts a portion of these oils into the levels of EPA and DHA that are essential for fertility. It also contains added omega 9 fatty acids, which are nonessential yet compensate for a deficiency in today's diet.
Benefits:
Essential fatty acids are used by every cell in the body and healthy cells make healthy reproductive systems! The Optimal Fatty Acid Blend promotes balanced hormones and helps regulate the menstrual cycle. Our Optimal Fatty Acid acts as a natural anti-inflammatory and improve reproductive cell structure.
Daily Schedule:
Take 3 capsules in the morning and 3 capsules in the afternoon or evening.
Support:
All of us at East West Essentials have a passion for wellness and want to help you reach your goal of creating a family. We are here to support you throughout your journey. Our wellness specialists have led hundreds of people through our products and programs, leading to successful pregnancies, in and outside of our clinics. Please give us a call if you have any questions.
It is formulated without:
Fish, preservatives, harmful additives, fillers, bleaching agents or hexane.
CAUTION:
If you have any major health concerns, check with your healthcare practitioner before use. Keep out of reach of children.
STORAGE:
Keep tightly closed in a clean, dry place. Do not freeze.
TAMPER EVIDENT:
Do not use if safety seal is missing or broken.
East West Essentials products are manufactured in an NSF certified GMP registered facility. GMP refers to the Good Manufacturing Practice regulations as put forth by the US Food and Drug Administration.
| | |
| --- | --- |
| | |
| Optimal Fatty Acid fertility product video | Optimal Fatty Acid male fertility product video |
Optimal Fatty Acid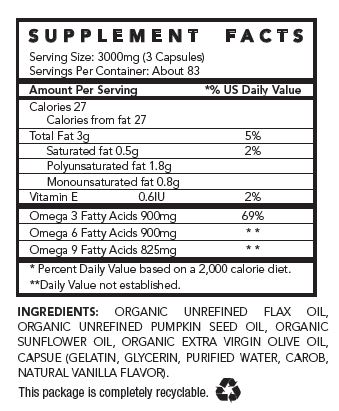 Customer Reviews
---

"My favorite product" (Posted by:

Michelle

on 5/28/14)
I have used this product for years. Each bottle lasts 45 days which took me a while to figure out. HA.. (I take 6 caps per day) It really works for cellulite! Made such a visible difference I am afraid to stop using it. Big fan of the Optimal Fatty Acid.

---

"True value" (Posted by:

Cecilia

on 2/26/14)
My husband and I have used several of your products for the past 4-5 years. The quality is outstanding and the pricing very competitive. We particularly like the Fatty Acid Blend. We appreciate that you are out there.

---

"Great!!!" (Posted by:

Eilat

on 2/25/14)
The Optimal Fatty Acid helped me lose the few extra pounds I wanted to loss before going away on a trip before my sisters wedding. I have been working out but still could not loss those extra pound like I wanted read about this product at health magazine tried it and I am so happy I did.

---

"great non-fish base" (Posted by:

no fatty

on 6/3/13)
looking for a no fish fatty acid and found East west essentials - great stuff and easy to take - my skin looks so much better!