Optimal Fatty Acid Blend
What it is:
East West Essentials Optimal Fatty Acid Blend plays a vital role in almost every bodily function. Our Fatty Acids give you the support needed to protect your heart, support healthy cholesterol levels, repair cell membranes, and helps burn body fat. These essential fatty acids cannot be produced by the body, so they need to be ingested. Since the Optimal Fatty Acid Blend is plant based you don't have to worry about excess toxins or rancidity. These oils contain no pesticides and are 100% certified organic.
What it does:
This perfectly balanced blend of fatty acids have a 1:1 ratio of Omega 3 to Omega 6, and are plant-based to promote the conversion of omega 6 fatty acids to GLA, therefore reducing a pooling of arachidonic acid. Your body also converts a portion of these oils into the levels of EPA and DHA that are essential for your health. It also contains added omega 9 fatty acids, which are nonessential yet compensate for a deficiency in today's diet.
Benefits:
Essential fatty acids are used by every cell in the body and healthy cells make healthy people! The Optimal Fatty Acid Blend fires up mitochondria to burn fat. It can boost heart health, lower triglycerides, support healthy blood sugar levels, and promote breast health. Our Optimal Fatty Acid acts as a natural anti-inflammatory, which can help fight off the premature aging of skin and promote overall skin elasticity. Additionally it aids in the prevention of constipation, arthritis, depression, cancer, and cardiovascular disease.
Daily Schedule:
Take 3 capsules in the morning and 3 capsules in the afternoon or evening. You may take up to 9 capsules a day.
Support:
All of us at East West Essentials have a passion for wellness and want to help you reach your health goals. We are here to support you throughout your journey. Our wellness specialists have led hundreds of people through our products and programs in and outside of our clinics. Please give us a call if you have any questions.
It is formulated without:
Fish, harmful additives, preservatives, fillers, bleaching agents or hexane.
CAUTION:
If you have any major health concerns, check with your healthcare practitioner before use. Keep out of reach of children.
STORAGE:
Keep tightly closed in a clean, dry place. Do not freeze
TAMPER EVIDENT:
Do not use if safety seal is missing or broken.
East West Essentials products are manufactured in an NSF certified GMP registered facility. GMP refers to the Good Manufacturing Practice regulations as put forth by the US Food and Drug Administration.
Optimal Fatty Acid Blend
Optimal Fatty Acid Blend product video
Optimal Fatty Acid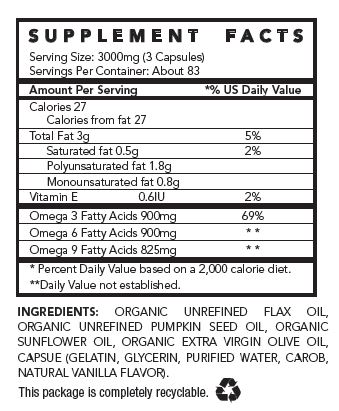 Customer Reviews
---

"Excellent" (Posted by:

Jordan

on 11/3/15)
My skin looks so much better after taking this! I'm even seeing my stretch marks fade!

---

"Fabulous!" (Posted by:

Mimi

on 7/24/15)
My skin looks fabulous and I love it! The cellulite and stretchmarks on my thighs is gone baby gone!

---

"Thank you" (Posted by:

Matriel

on 6/17/15)
I don't know what to write other than thank you. My stubborn flabby stomach is gone!

---

"Fantastic" (Posted by:

Cricket

on 5/28/15)
Nothing but good things to say about these. No fish oil!

---

"Love" (Posted by:

Taquisha

on 5/8/15)
I just love and appreciate how these pills woke up my sleepy metabolism and helped me to actually see results from all of my gym time. Love love love.

---

"Thank you for my new skin." (Posted by:

Jordan

on 12/3/14)
After asking a close friend what her secret was for such great looking skin I was referred to East West Essentials, specifically their Optimal Fatty Acid. Since I have started taking the blend I have noticed that my skin is a whole lot less dry, more firm, and everyone says I look great! I can't thank my friend and the people at East West Essentials enough for this great product. Getting all my essential oils has never been easier.

---

"My favorite product" (Posted by:

Michelle

on 6/10/14)
I have used this product for years. Each bottle lasts 45 days which took me a while to figure out. HA.. (I take 6 caps per day) It really works for cellulite! Made such a visible difference I am afraid to stop using it. Big fan of the Optimal Fatty Acid.

---

"Very beneficial!!!" (Posted by:

Cindy M.

on 3/10/14)
I've recently had my second child and throughout my latest pregnancy I took the Optimal Fatty Acid, my skin reacted completely differently then when I carried my first child! With my naturally dry skin, I've never felt my skin so nourished and balanced, even when I wasn't pregnant! I also didn't get any stretch marks throughout this pregnancy, where as in my first pregnancy that was my number one problem! Extremely pleased with this product and would reccomend to anyone!

---

"True value" (Posted by:

Cecilia

on 2/26/14)
My husband and I have used several of your products for the past 4-5 years. The quality is outstanding and the pricing very competitive. We particularly like the Fatty Acid Blend. We appreciate that you are out there.

---

"Great!!!!!!!!!!!!!" (Posted by:

Eilat

on 2/24/14)
The Optimal Fatty Acid helped me lose the few extra pounds I wanted to loss before going away on a trip before my sisters wedding. I have been working out but still could not loss those extra pound like I wanted read about this product at health magazine tried it and I am so happy I did.

---

"Fantastic" (Posted by:

Maura

on 7/27/13)
The optimal fatty acid helped me lose the few extra pounds I wanted to before my sisters wedding. It seemed to help me relieve some stress as well. I followed the 3 in the morning and 3 post workout routine.  It also really cleared up my face, I'm guessing by balancing me out a bit and helping new skin be more healthy. I liked that there was no bad after taste nor bad breath. Fish seemed to do that to me which is the only reason I was hesitant at first. Never again! Ill be making another purchase shortly!

 I toast you east west essentials. Your products are something I will use for years to come.

---

"One of the best Fatty Acid" (Posted by:

Catherine

on 10/15/12)
I have been taking the fatty acids for the past 6 years.....and I couldn't be more satisfy.

---

"The fatty acids help my skin quality!" (Posted by:

Stepanie

on 10/11/12)
I have been taking the fatty acids for a few years now and couldn't be happier. I love the way my skin looks and I give it all to the fatty acids. I can totally tell a difference when I forget to take them. They are also great to cut open and put on my face as a serum before bed. They are a must have.