Optimal Beauty
What it is:
Most products on todays market for skin, hair and nails are not easily absorbed and therefore ineffective. Optimal Beauty is a natural compound of choline-stabilized orthosilicic acid "ch-OSA" that it is delivered in a easily absorbed bioavailable form. Optimal Beauty is known to thicken hair and lashes, reduce age related fine lines and wrinkles, and strengthen nails. Healthy skin is composed of 75% collagen, a protein that moisturizes from within, pulling in and holding on to the moisture that continuously nourishes the skin. Collagen is your skin's ultimate "Moisture Magnet". You can only get this genuine hydration from the inside out.
What it does:
There is no question that skin, hair and nails look better during youth. This is due to the rich abundance of collagen, keratin, and elastin present during this phase of life. Most people don't realize that beginning at age 21, collagen diminishes 1% per year. By age 30, the signs become visible. Optimal Beauty has the ability to activate the body's cells that generate collagen and can safely do the same for elastin and keratin.
Benefits:
Our hair, lashes, skin and nails become degraded because of exposure to sunlight, poor nutrition, hormone fluctuations and other factors. East West Essentials Optimal Beauty nourishes your three natural "Beauty Proteins", collagen, keratin and elastin.
Hair and nails: Keratin is the protein responsible for the thickness, body, and strength of your hair, as well as the strength and clarity of your nails. The benefits of Optimal Beauty is that hair is less fine, has more body, doesn't easily break, is thicker and has more elasticity. You will also notice your hair has less rigidity and more volume. Optimal Beauty is designed to increase and thicken the diameter of the hair shaft by generating an increase in your body's production of collagen. This increase of hydration makes the hair more robust. It also makes it like a fresh rubber band. It can stay elastic, bend and keep its shape. Your nails are made up of approximately 98% keratin which diminishes with age. Optimal Beauty can help naturally nourish this keratin resulting in stronger, healthy nails.
Skin: Healthy skin is composed of 75% collagen which acts as a "moisture magnet" pulling in and holding on to the moisture that continuously nourishes the skin. Collagen "plumps" your skin, designed to remove existing wrinkles and prevent new ones from forming. Optimal Beauty enhances the protein collagen to stimulate the continuous hydration of your skin.
Daily Schedule:
Take 1 capsule two times per day
Support:
All of us at East West Essentials have a passion for wellness and want to help you reach your health goals. We are here to support you throughout your journey. Our wellness specialists have led hundreds of people through our products and programs in and outside of our clinics. Please give us a call if you have any questions.
It is formulated without:
Fish, harmful additives, preservatives, fillers, bleaching agents or hexane.
CAUTION:
If you have any major health concerns, check with your healthcare practitioner before use. Keep out of reach of children.
STORAGE:
Keep tightly closed in a clean, dry place. Do not freeze
TAMPER EVIDENT:
Do not use if safety seal is missing or broken.
East West Essentials products are manufactured in an NSF certified GMP registered facility. GMP refers to the Good Manufacturing Practice regulations as put forth by the US Food and Drug Administration.
Click here for the full Optimal Beauty Catalog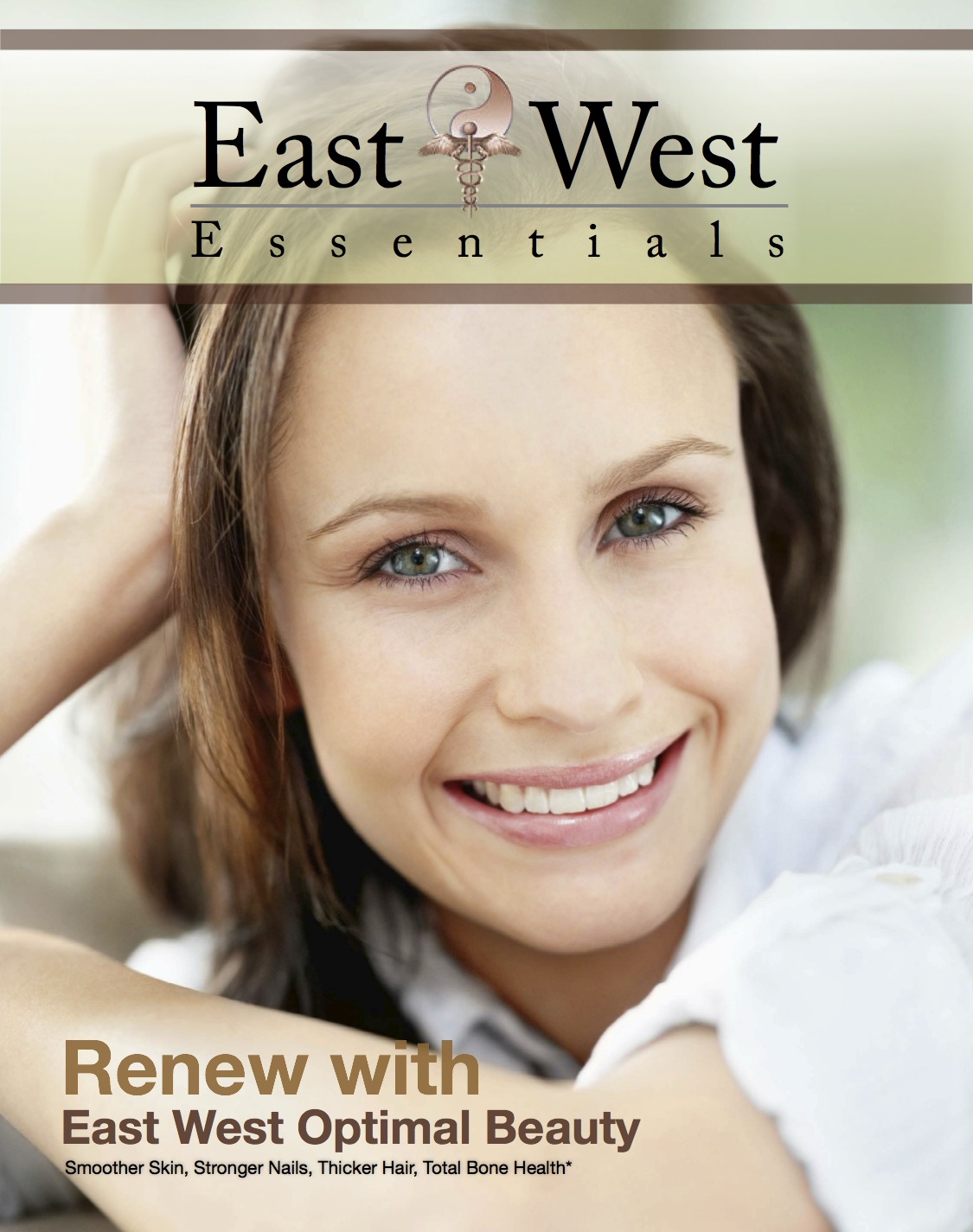 Optimal Beauty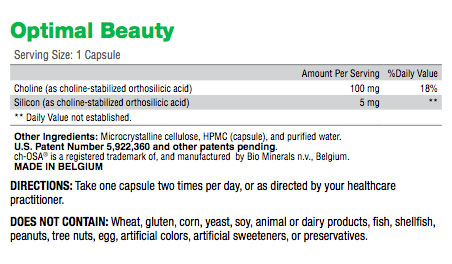 Customer Reviews
---

"Optimal!" (Posted by:

Sia

on 3/19/16)
I lost alot of the fullness and thickness of my eyelashes from wearing extensions for far too long. You wouldn't believe how fast and luscious they grew from taking Optimal Beauty. It's so much more effective (and safer) than the creams doctors prescribe (THAT MAKE YOUR PUPILS CHANGE COLOR YIKES!).

Thanks for having my back (or my eyelashes really) East West Essentials! Couldn't be easier!

---

"No comparison" (Posted by:

Sef

on 1/29/16)
Nothing has ever made my nails healthier. I'm a chronic nail biter but when I managed to stop, the Optimal Beauty really revitalized my nails and made them look gorgeous!

---

"Excellent" (Posted by:

Edward

on 7/9/15)
I'm a make up artist and I recommend this to all of my clients!

---

"So helpful" (Posted by:

fitflop singapore

on 5/23/15)
Read about this company in Harper's Bazaar and I'm in love with the products! This optimal beauty is like magic in a bottle!

---

"Great results!" (Posted by:

Nicole

on 1/25/15)
My girlfriend told me about the optimal beauty. I take it everyday and noticed a huge difference in my hair by the second month.

---

"Great!" (Posted by:

Addison

on 1/25/15)
This capsule is so easy to swallow and it has no taste which I love. I have noticed a huge difference in the collagen In my face. Makes a bigger difference than any of the face creams I have been using. And better priced!

---

"Day and Night Difference" (Posted by:

Mary

on 11/25/14)
I ordered the Optimal Beauty based on my sister's recommendation and I couldn't be more glad I did. Since I have started consistently taking the capsules my eye lashes are fuller and longer. While my eye lashes were the most noticeable difference after taking these capsules, I also noticed my skin and hair in general were a whole lot less dry. I love this product and look forward to trying others!

---

"Amazing, Must-Have!!!!" (Posted by:

Gwen

on 7/15/14)
My hair has always been fine and lifeless... no matter what style or product I try (and believe me, I tried them all!). I've been an EWE fan for years and love their products so I was SO excited when this launched. After my first month of using it my hair was changed for the better. It was like someone else's hair had magically appeared on my head - and that someone else was a hair model! My hair was fuller, healthier and long. I didn't realize the extent until someone posted a pic of me o Facebook and literally EVERY comment was about my HAIR! I rarely receive hair compliments until now. And suddenly I hear it everywhere I go! I tell everyone I know about optimal beauty. It is amazing! My nails are stronger as well and I swear my fine lines have been reduced, especially around my eyes. THANK YOU, EAST WEST!!!!! xoxoxoxox

---

"Highly Recommended" (Posted by:

Donna

on 1/20/14)
I just start using this product only for a month but I notice the different with my hairs...not only that but also, my skin and nails are getting healthier. Love it!!!

---

"fantastic!!!" (Posted by:

Lucy

on 1/20/14)
been using for 3 months and getting fantastic comments about my hair!!! "what shampoo are you using" etc. Can't say enough about your product and I've tried them all!

---

"Loving it" (Posted by:

Cat

on 1/14/14)
After, taking the Optimal Beauty for 2 months I realized the product did 2 two things for my hairs
1) hair is growing thicker
2) hair stopped shedding as much
and I am one happy & satisfied customer
Highly suggested this product to everyone man & woman included.