Optimal Prenatal Blend
What it is:
Choosing a prenatal supplement is an essential step in a healthy pregnancy. That's why the doctors of East West Essentials have created the Optimal Prenatal Blend specifically to enhance reproductive health, nourish the demands of nursing and early motherhood, reduce the incidence of miscarriage, increase fetal birth weight and lower the risk of neural tube defects. Optimal Prenatal Blend is conveniently packaged in a single dose packet.
What it does:
Your baby needs calcium to grow strong bones, teeth, a healthy heart, nerves, muscles and to develop normal heart rhythm and blood clotting abilities, and the Optimal Prenatal Blend ensures delivery of calcium to you and your fetus. The Optimal Prenatal Blend also reduces the risk of post-partum depression. The rapidly dividing cells of the developing fetus require biotin for DNA replication and synthesis of essential carboxylases, therefore our Optimal Prenatal Blend has added 200 mcg of biotin to the formula. Additionally, studies show that supplementation of inositol during pregnancy and while nursing "super charges" the baby's brain, and our blend ensures proper delivery.
Daily Schedule:
Take 1 packet in the morning and 1 packet in the afternoon or evening.
Support:
All of us at East West Essentials have a passion for wellness and want to help you reach your goal of creating a family. We are here to support you throughout your journey. Our wellness specialists have led hundreds of people through our products and programs, leading to the successful delivery of healthy babies, in and outside of our clinics.
It is formulated without:
Artificial sweetener, fillers, wheat, gluten, yeast, colors, or preservatives.
CAUTION:
If you have any major health concerns, check with your healthcare practitioner before use. Keep out of reach of children.
STORAGE:
Keep tightly closed in a clean, dry place.
TAMPER EVIDENT:
Do not use if safety seal is missing or broken.
East West Essentials products are manufactured in an NSF certified GMP registered facility. GMP refers to the Good Manufacturing Practice regulations as put forth by the US Food and Drug Administration.
Optimal Prenatal Blend
Optimal Prenatal Blend product video
Optimal Prenatal Blend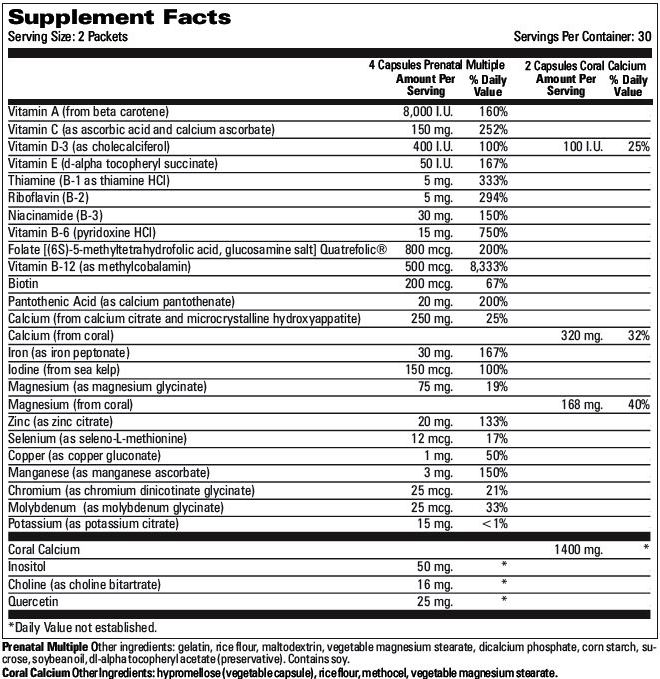 Customer Reviews
---

"The best choice I made during my pregnancy!" (Posted by:

Jenn

on 10/25/12)
I had pre-clampsia with my second child and with my third I worried I would have the same problem. A wonderfully loyal friend bought me a bottle of the Optimal prenatal Blend and Optimal DHA and I was healthy my entire pregnancy. Also the prenatals I took with my previous pregnancies always made me nauseous and I never had an issue with the Optimal Prenatal Blend.

---

"No Constipation" (Posted by:

Sonya

on 10/15/12)
I have used many different prenatal vitamins while I was pregnant and when I was trying to get pregnant I always had a problem with the bowel movement but ever since I switch to Optimal Prenatal never have a problem again with the bowel movement and feel alot better than ever before.